Central Asia: Russian, Turkmen, Kazakh Leaders Agree On Caspian Pipeline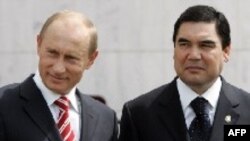 Russian President Vladimir Putin and Turkmen President Gurbanguly Berdymukhammedov in Ashgabat on May 11 (AFP) May 12, 2007 -- The presidents of Russia, Turkmenistan, and Kazakhstan have agreed to build a natural gas pipeline along the Caspian sea coast.
The landmark deak was agreed today during three-way talks between Russian President Vladimir Putin, Turkmen President Gurbanguly Berdymukhammedov, and Kazakh President Nursultan Nazarbaev in the coastal Turkmen city of Turkmenbashi.
The pipeline would carry natural gas from Turkmenistan to Europe via Kazakhstan and Russia.
In joint declarations, the three leaders said they will sign a treaty by September on building the new pipeline. It is to carry natural gas from Turkmenistan to Europe via Kazakhstan and Russia.
The agreement, along with an accompanying deal to upgrade existing Soviet-era infrastructure in Uzbekistan, is seen as a blow to U.S., European, and Chinese hopes of diverting the flow of Central Asian gas out of Russian hands.
Russian President Vladimir Putin said the deal means "more supplies of energy resources to Europe and the world's markets."
"I am very pleased to note that our decision today fully meets the goals and tasks that were formulated at the Group of Eight [G8] summit in St. Petersburg. Now the aim is to develop new [energy] fields, and this means we are faced with the problem of expanding the transport capacities," Putin said.
Energy Imperialism Accusations
All three leaders sought to play down the diplomatic implications of the pipeline. But the deal comes amid rising Western concerns over Russia's use of its energy riches for political purposes -- a charge Moscow denies.
Turkmen President Gurbanguly Berdymukhammedov praised the agreement: "This project has obvious benefits for all parties. We guarantee the delivery of the required volume of Turkmen natural gas and for the period that will be determined by the results of the reached agreement."
Prior to the signing, Kazakh President Nursultan Nazarbaev, who this week pledged to keep most of his country's oil flowing through Russian pipelines, had called the agreement "a purely pragmatic commercial project," adding: "There is no politics there."
Still, Berdymukhammedov said plans for a rival U.S.-backed trans-Caspian pipeline that bypasses Russia had "not been completely dropped."
"This project has obvious benefits for all parties. We guarantee the delivery of the required volume of Turkmen natural gas and for the period that will be determined by the results of the reached agreement."
However, Russian Energy Minister Viktor Khristenko said he believed there was now little chance of it going ahead. He said that the "technological, legal, and ecological risks are so big that it will be impossible to find an investor unless it is a political investor who does not care how much gas there is to pump through."
Julian Lee, a senior analyst at London's Center for Global Energy Studies, says that one key issue with the West's desired trans-Caspian pipeline is that neither Russia nor Iran, which have veto rights as countries that border the Caspian, are likely to agree on the project.
"It seems at the moment, at least, very clear that both Russia and Iran are likely to veto any plans to build either gas or oil pipelines underneath the Caspian Sea. So I think it will be perhaps very difficult to see either gas or oil moving from Central Asia by pipeline toward Europe without bypassing Russia," Lee says.
New Gas Discoveries
New gas finds in Turkmenistan and a new Turkmen leader following the death in December of former President Saparmurat Niyazov had raised the possibility that Ashgabat, the largest gas producer in Central Asia, might seek new export avenues.
Berdymukhammedov said Turkmenistan still had a long-term interest in diversifying pipelines and listed possible projects with Iran, China, Afghanistan, India, and the trans-Caspian.
Indeed, as analyst Lee notes, the competition over Central Asian energy is by no means a simple battle between Russia and Europe. There is another player, China, whose presence complicates the picture further.
"Russia has become increasingly concerned in recent years not perhaps so much about the possibility of Central Asian gas going to Europe by routes that don't go through Russia, but by Central Asian gas going to China, which can very easily be done without transiting Russian territory," Lee says.
"And I think what we're seeing at the moment is a Russian reaction to the possibility of very substantial gas exports from Kazakhstan, Turkmenistan, and elsewhere, going eastwards into China. And it's that, I believe, that Russia is really trying to nip in the bud."
Turkmenistan has not published independent audits of its gas reserves. But when he was asked if Ashgabat has enough gas for new pipelines to Iran, Afghanistan, or China, Berdymukhammedov said: "Do not worry, there is enough."
Khristenko told reporters that in the first stage, the new pipeline will deliver 10 billion cubic meters of gas per year by 2009-2010.
(with agency reports)


For a complete archive of RFE/RL's coverage of energy issues in the Caspian Sea region and Russia, click here.
HOW MUCH OIL? The U.S. Energy Information Administration has estimated that the Caspian could hold between 17 billion and 33 billion barrels of proven oil. ("Proven reserves" are defined by energy experts to be 90 percent probable.) Other experts estimate the Caspian could hold "possible reserves" of up to 233 billion barrels of oil. ("Possible reserves" are considered to be 50 percent probable.) By comparison, Saudi Arabia has 261 billion barrels of oil and the United States 23 billion...(more)
See also:
Economic Forecast For 2006 Sees Growth, But Danger In Continued High Oil Prices
How Vast Are The Riches In The Caspian?
Experts Envision A Future Beyond Oil