Al-Qaeda Claims U.S. Troops Captured In Iraq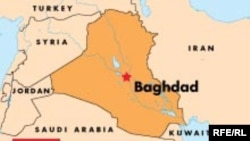 (RFE/RL) May 13, 2007 -- An Al-Qaeda front group says it captured several U.S. soldiers during a May 12 attack to the south of Baghdad.
In a statement posted on a website, a group calling itself "the Islamic State in Iraq" claimed responsibility for the attack in Al-Mahmudiyah.
The group said it is holding an unspecified number of U.S. soldiers, but did not offer proof to support the claim.
The U.S. military has said that four U.S. soldiers and their Iraqi interpreter were killed in fighting south of Baghdad on May 12. It also says three U.S. soldiers are missing.
A U.S. military spokesman says troops are searching for the three missing soldiers.
(compiled from agency reports)

SUBSCRIBE For weekly news and analysis on Iraq by e-mail,
subscribe to "RFE/RL Iraq Report."