The U.S. secretary of state arrived in Russia today for two days of talks with President Vladimir Putin, Foreign Minister Sergei Lavrov, and other top officials.
Russian officials say they are preparing for calm and measured discussion. Such statements, however, couldn't be more at odds with the bitter exchanges between the two countries in recent months.
"I regard relations between the two countries as at their most tense in more than 20 years, since [Soviet President Mikhail] Gorbachev came to power and ushered in an era of new thinking in the sphere of foreign policy," says Yevgeny Volk, a political analyst at the Heritage Foundation in Moscow.

Among the divisive issues likely to be discussed are U.S. plans to build a missile-defense shield in Eastern Europe, and a Washington-backed plan to grant conditional independence to the Serbian province of Kosovo.
President Putin is vehemently opposed to both proposals. At a damning speech in Munich this year, he warned Washington's foreign policy was a threat to global peace.
Tit For Tat
In April, the Kremlin announced it was pulling out of a key arms accord, the Conventional Forces in Europe Treaty -- a move widely seen as retaliation for the U.S. defense plans.
And Russia's ambassador to the United Nations said during the weekend it was "becoming more likely" his country would veto a draft UN Security Council resolution granting Kosovo independence.
Washington, in turn, has attacked Moscow's human rights record and accused the Kremlin of trampling on freedom of speech.
It has also criticized Moscow's hardened stance toward some of its neighbors, including Georgia and Ukraine, which are pursuing more Western policies.
Still, despite rising tensions, Rice told reporters on her arrival in Moscow today that there was no reason to speak of a new "Cold War."
Campaign Season
Masha Lipman, an expert at the Moscow Carnegie Center, sees domestic interests in the current frosty relations.
"I think we've entered a really vicious circle here, because every next step brings about another unpleasant statement from the other side," she says.
"And this goes on and on, and it doesn't seem like there is a desire or readiness to become more constructive, not least because both countries have entered election campaigns and [in Russia] the closer it is to the election, the tougher the anti-Western stance."
Russians will vote in a parliamentary election in December and in a presidential poll next spring. In the United States, a presidential election will also take place in November 2008.
Conventional Forces In Europe
Conventional Forces In Europe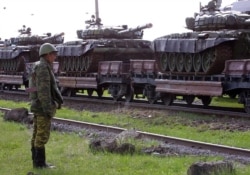 A Russian soldier watching Russian armaments leave Georgia in 2006 (epa)


AGREEMENTS ON CONVENTIONAL FORCES IN EUROPE. The CFE treaty is an arms-control agreement originally negotiated between NATO and the Warsaw Pact as a guarantor of European security in Europe in the waning days of the Cold War.

The original CFE Treaty took 10 years to negotiate, was signed by 30 states ** in November 1990, and came in to force in 1992. Its aim: to reduce stockpiles of conventional armaments between the Atlantic Ocean and the Ural mountains.
The blocs limited themselves to:
20,000 tanks
20,000 artillery pieces
30,000 armored combat vehicles
6,800 combat aircraft
2,000 attack helicopters

The CFE-1A, a 1992 addendum, has resulted in the withdrawal of more than 700,000 troops from Europe since 2001 and the destruction of 50,000 pieces of military equipment by 1995.
The CFE-II, negotiated in Istanbul in 1999, reflected the new, post-Soviet landscape by setting arms limits for individual countries, rather than zones. The agreement aided NATO's expansion efforts by allowing signatory states to allow foreign forces on their soil.
NATO states have not ratified the CFE-II due to concerns over Russia's failure to comply with commitments it made during the negotiations. Under the Istanbul Accords, Russia pledged to set a timetable for closing its remaining military bases in Georgia and to completely withdraw its forces from Moldova.
The CFE-II will come into force once ratified by all 30 CFE signatories. Thus far only Belarus, Kazakhstan, Russia, and Ukraine have ratified the CFE-II.
In ratifying the agreement in June 2004, Russia called on the signatories not to delay in ratifying the document. Russia expressed concern that Lithuania, Estonia, and Latvia, as nonmembers of the treaty, could possibly harbor NATO troops near its western border.
(** Armenia, Azerbaijan, Belarus, Belgium, Bulgaria, Canada, Czech Republic, Denmark, France, Georgia, Germany, Greece, Hungary, Iceland, Italy, Kazakhstan, Luxembourg, Moldova, the Netherlands, Norway, Poland, Portugal, Romania, Russia, Slovak Republic, Spain, Turkey, Ukraine, the United Kingdom, and the United States. )