The meeting date has yet to be announced, but officials say it will be "in the next few weeks" and the place will be Baghdad.
It will be a rare one-on-one meeting between U.S. and Iranian diplomats, whose countries broke off diplomatic relations more than two decades ago.
The announcement on May 13 comes just a week after the U.S. and Iraqi foreign ministers failed to hold widely expected talks during an international summit on Iraq in Sharm el-Sheikh, Egypt.
Both Sides Downplaying Expectations
Both Washington and Tehran are making it clear they do not expect major breakthroughs from the upcoming Baghdad meeting.
Instead, they are representing it as a part of a process that began with the first multiparty summit over Iraq's security in Baghdad on March 10 and continued with a May 3-4 summit in the Egyptian resort of Sharm el-Sheikh.
"The security situation, which is primarily caused by the flawed policies of the occupying powers, overshadows efforts to deal with other issues." - Manuchehr Mottaki
Both those prior meetings brought Iran and the United States together at the same place and time, but both sides confined their communication to multiparty meetings.
Now, the ambassadors to Baghdad from both countries will speak one-on-one about the tensions over their Iraq policies.
Announcing the meeting, U.S. White House spokesman Gordon Johndroe said in Washington that the talks "should not be seen as a particular moment but as part of an ongoing process to get Iran to play a constructive role in Iraq."

Iranian Foreign Ministry spokesman Mohammad Ali Hosseini said Iran had agreed to the talks "in order to relieve the pain of the Iraqi people, to support the government, and to reinforce security in Iraq."
"I hope that Iranian support for terrorism will cease." -- Condoleezza Rice
Hosseini also said a date for the talks would be announced this week.
Neither spokesman gave details about what would be on the agenda. But Washington said the talks will not widen beyond the subject of Iraq to include the crisis over Iran's nuclear program.
U.S., Iran Trade Accusations Over Iraq
So, what specifically will the two sides talk about?
Both sides have been giving hints for some time, even as they participated in the two previous multinational meetings over Iraq's security.
In Sharm el-Sheikh last week, U.S. Secretary of State Condoleezza Rice said she hoped for an end to "Iranian support for terrorism."
"I sincerely hope that Iran will act in what it says is its own self interest to stop the flow of arms to extremists, who then use them to hurt our forces and innocent Iraqis," she told reporters.

Washington accuses Iran of providing funds, training, and weapons to members of Iraqi Shi'ite militias that attack coalition forces and engage in sectarian fighting with Sunni groups.
Iran denies the charge. Instead, Tehran says Iraq's security problems stem directly from the U.S. presence in the country, or what Iranian Foreign Minister Manuchehr Mottaki last week called "the flawed policies of the occupying powers."
Iran has repeatedly called for U.S. and other international forces to withdraw from Iraq.
Tensions between Washington and Tehran over Iraq have mounted as U.S. forces continue to hold several Iranians arrested in northern Iraq in December. The arrested men include members of the Iranian military.
Washington has cited their presence in Iraq as evidence that Iran is playing a destabilizing role. Tehran has demanded their release, saying the detainees are diplomats.
Direct talks are extremely rare between U.S. and Iranian diplomats, but have occurred previously over Afghanistan.
The United States and Iran broke off diplomatic relations after U.S. diplomats were taken hostage in Tehran shortly after the 1979 Islamic Revolution.
Iraq's Refugee Crisis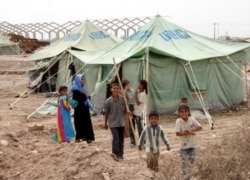 Children at an Iraqi camp for displaced people outside Al-Nasiriyah in May 2006
REFUGEES FLEE SECTARIAN VIOLENCE The UN High Commissioner for Refugees has estimated that over 2 million Iraqis have fled sectarian violence for Jordan, Syria and other neighboring states, while an equal number may be internally displaced within Iraq..... (more)
RELATED ARTICLES
Neighboring States Call For Help With Refugees
Refugees Under Pressure in Syria, Jordan, Lebanon
Displacements Upset Religious, Ethnic Communities
Official Says Refugees To Get New Passports Soon