But the fact remains that there will be no progress made toward formally intensifying the EU-Russia relationship. The two sides currently work within the framework of a Partnership and Cooperation Agreement (PCA) signed in 1997.
The two sides are plagued by chronic disagreements and EU member Poland blocking talks on an official strategic partnership accord.
Until a few years ago, Russia was very keen on being recognized as a strategic partner of the EU, but the union was a little less keen. The tables have turned now, and Russia's extremely predominant position as the EU's main energy supplier has given it enormous leverage and also a good deal of confidence.
What Both Sides Wanted
What the EU would have wanted from a strategic partnership accord would have been a new level of engagement that would have brought Russia closer to the EU in terms of its legislation, political practices, and perhaps fundamental rights -- and also, very importantly, in terms of the way Russia trades energy, with the EU but also with other outside partners.
From Russia's point of view, the picture is less clear. Russia clearly has never really been that interested in the human rights and democracy side of the agreement. Perhaps what mattered most to Moscow at one stage was this added prestige that a strategic partnership with the EU would have lent its global stature.
Also, Russia was hoping a movement toward that kind of strategic partnership would have taken it closer to one of its key strategic aims in its partnership with the EU, which is complete visa freedom for its citizens to travel within the EU.
New EU States
The presence of the three Baltic states and Poland in the EU has been an obstacle to a strategic partnership agreement.
Russia clearly has chosen a different tack in its relations and its communication with those countries, and that tack is different to what Russia does with regard to the rest of the EU, to the so-called "old" member states.
Poland is blocking within the EU the mandate for talks that could lead to a new partnership agreement. Lithuania, for different reasons, is threatening to do the same. And now Estonia is also in a position where it would probably want to veto these talks if other countries weren't vetoing them already.
Individual, Bloc Negotiations
Russia in the past has appeared to indicate it preferred to maintain individual bilateral relationships with each of the EU member states, rather than dealing with the bloc as a unified entity.
But that is not really their official position. Russian Ambassador to the EU Vladimir Chizhov recently told journalists as recently as May 15, that Russia would very much prefer a common EU position.
However, even if the summit is chilly, in substantive terms, nothing is really lost. It doesn't mean that there is now a legal vacuum in the relationship between Russia and the EU, because the current PCA -- although it expires formally on December 1 this year -- will automatically be extended on an annual basis if neither of the two sides chooses to revoke it.
The EU has made it very clear that it is not going to revoke the PCA, and the Russian side has said the same thing.
Russia And The EU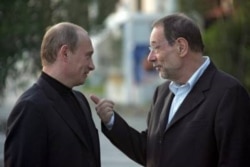 Russian President Vladimir Putin (left) with EU foreign policy representative Javier Solana in Sochi in May 2006 (epa)


A POLICY OF APPEASEMENT? Ralf Fuecks, head of the Heinrich Boell Foundation and a Green Party activist, spoke at RFE/RL's Prague broadcast center about the EU's complex relations with a resurgent Russia. RFE/RL President Jeff Gedmin moderated the discussion.
LISTEN
Listen to the entire briefing (about 60 minutes):

Real Audio
Windows Media
RELATED ARTICLES
Moscow Hosts PACE Standing Committee
Brussels Mulls Over Its Energy Sources
Council Of Europe 'Convinced' Of Chechnya Torture
ARCHIVE
RFE/RL's coverage of
Russia
.