For Kremlin officials and most Russian media, the outcome of the three-way summit that took place on May 12 in the Caspian Sea city port of Turkmenbashi is a major victory for Putin.
The plan envisages the construction of a new pipeline and the modernization of old ones to carry Turkmen and Kazakh natural gas to Russia and on to Europe.
One of the most immediate political fallouts of the talks the Russian president had with his Kazakh and Turkmen counterparts, Nursultan Nazarbaev and Gurbanguly Berdymukhammedov, is that they eclipsed a rival high-level meeting that took place the day before in Krakow, Poland.
The Turkmenbashi deal left U.S. and EU Caspian energy polices "in ruins." -- Analyst Vladimir Socor
Nazarbaev, who had initially confirmed his presence at this pro-Western energy summit that was to focus on Caspian oil projects for European consumer countries, dispatched instead a deputy energy minister, Lyazzat Kiinov.
Analyst Vladimir Socor wrote in the May 14 issue of the Jamestown Foundation's Eurasia Daily Monitor that the announcement made in Turkmenbashi "cast a dark shadow on the Krakow summit" and left U.S. and EU Caspian energy policies "in ruins."
In a joint statement released at the end of their meeting, the Russian, Kazakh, and Turkmen leaders said they had instructed their respective governments to proceed with the construction of a new export pipeline to Russia along the Caspian Sea coast.
The declaration said a final agreement on the Caspian shore gas pipeline would be signed by September 1 and that its implementation would begin in the second half of 2008.
In a second declaration that was reportedly signed beforehand by Uzbek President Islam Karimov, the three presidents said they had agreed to upgrade two old pipelines, including one that carries Turkmen gas to Russia through Uzbekistan and Kazakhstan.
Russian officials say the deals should help increase annual imports of Central Asian gas to 90 billion cubic meters, up from current volumes believed to be around 50 billion cubic meters.
Boost For Putin Ahead Of EU Talks
In the absence of information on Turkmenistan's actual gas reserves, which remain a state secret, Putin's victory is first and foremost diplomatic.
The Russian president is scheduled to meet May 19 with German Chancellor Angela Merkel and other European officials for talks that promise to be tense.
Although energy cooperation is unlikely to top the agenda of the upcoming Russia-EU summit, it would be most surprising if the results of the Turkmenbashi meeting were not discussed.
The Interfax news agency on May 12 quoted an unidentified Kremlin official as saying the deals secured that day in Turkmenistan gave Russia "additional arguments" in its energy dialogue with the European Union.
Russian Energy Minister Viktor Khristenko in turn said that, once implemented, those pipeline agreements would help cover the needs of both the CIS and European gas markets. A price dispute between Russia and Ukraine led to a brief disruption in supplies to Europe (ITAR-TASS)
The EU is wary of its energy dependence on Russia, which supplies roughly one-quarter of the oil and gas consumed by the bloc, and the proportion is set to rise sharply in coming decades.
Energy security has become a top priority for the EU ever since a price dispute between Moscow and Kyiv last year led to a brief disruption of gas deliveries from Russia. Ukraine is a main transit route for the natural gas Russia buys from Central Asian producers and re-exports to Europe.
Brussels insists that Russia ratify an international treaty known as the Energy Charter that would oblige it to offer foreign investors fair access to its hydrocarbon reserves and, more importantly, to its export pipelines.
Putin has rejected the call, saying the treaty runs contrary to Russia's interests.
While trying to overcome Moscow's objections, the EU is seeking ways to buy natural gas directly from Central Asian producers.
Blow To U.S.-sponsored Pipeline Project?
The United States, which backs efforts to loosen Russia's energy grip on the EU, is calling upon the bloc to engage with Turkmenistan's new leadership and is trying to convince the latter to rally to a planned underwater pipeline that would deliver Central Asian gas to Europe through the Caspian Sea, the Southern Caucasus, and Turkey.
Washington argues that should Central Asian countries agree to ship their gas through the Trans-Caspian pipeline they would be able to sell their production at an average $300 per 1,000 cubic meters -- three times what Russia currently pays.
Russian energy officials claim the gas pipeline agreements reached last week in Turkmenistan mean the end of the rival U.S.-sponsored project.
"As of today, the Trans-Caspian Gas Pipeline project does not exist," Khristenko said in Turkmenbashi on May 12, adding that Russia offered a cheaper, safer, and therefore more attractive alternative to Central Asian producers.
Addressing journalists minutes later, Turkmen President Berdymukhammedov, however, warned it would be premature to write off the Trans-Caspian Gas Pipeline project.
Commenting on the outcome of the summit, Russia's "Kommersant" daily on May 14 said Putin had failed to secure a commitment from his Kazakh and Turkmen counterparts to not join the U.S.-sponsored project. The newspaper also noted that, in case of necessity, the Kazakh and Turkmen sections of the Caspian shore gas pipeline could easily be connected to an underwater conduit.
"When the Turkmen president said the Trans-Caspian Pipeline Project was still on the agenda, he made the Russian project look as if it was in abeyance," Russian analyst Tatyana Stanovaya of the Moscow-based Center for Political Technologies wrote in a May 14 article posted on the Politkom.ru website.
Doubts Over Kazakh Support
If Turkmenistan's exclusive commitment to the Russian gas pipeline project remains under question, so may be Kazakhstan's.
Russia's "Kommersant" daily reported on May 11 that, despite Kazakh President Nazarbaev's announcement at a meeting with Putin in Astana the day before, the two leaders failed to reach an agreement on the capacity of a Russian-operated pipeline that carries Kazakh oil produced by a U.S.-led international consortium to the Black Sea and on to Western markets.
Kazakhstan has long been threatening to use alternative U.S.-sponsored export routes, including the Baku-Tbilisi-Ceyhan pipeline, unless Russia agrees to boost the annual capacity of the Caspian Pipeline Consortium to 67 million tons from a current 30 million tons.
Some observers warn that Russia's continuous objections to the Kazakh demands, officially for profitability reasons, are fraught with risks, especially in light of a recent announcement that Astana and Ashgabat will coordinate their energy-transportation policies.
"Central Asia has two options today -- either make enormous profits by selling its energy resources independently from Russia, with the help of Western investments, but with high commercial risks; or opt for sound commercial guarantees and Russia's firm support but significantly lower selling prices," analyst Stanovaya wrote.
However, she noted that in the absence of a consensual Western energy policy, both domestic political considerations and Russia's "increasing activity on the geopolitical arena" may lead Central Asian leaders to choose the second alternative.
Russia And Global Energy Security
Russia And Global Energy Security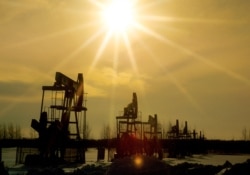 An oil field in Russia's Republic of Bashkortostan (TASS file photo)


ENERGY SECURITY is increasingly moving to the top of the EU's agenda in its dealings the outside world. A recent report identifies the European Union's main energy objectives as not just securing gas and oil deliveries from Russia, but also ensuring that it has reliable alternative sources, including in Central Asia. Nonetheless, EU officials say relations with Russia take center-stage in their thinking....(more)
RELATED ARTICLES
EU Maintains Codependent Energy Relationship With Russia
Turkmenistan: The Achilles' Heel Of European Energy Security
U.S. Official Urges Reforms In Energy-Producing Countries
ARCHIVE
A
complete archive
of RFE/RL's coverage of energy issues in the Caspian Sea region and Russia.