Natiq Aliyev's comments were made after he returned from an energy summit in Crakow, Poland, on May 11-12. Under discussion at the summit were potential routes to transit oil and gas from the Caspian to EU countries.

A day ahead of the summit, Russian President Vladimir Putin was in the Kazakh capital, where he was assured by President Nursultan Nazarbaev that Kazakhstan would continue to export most of its oil through Russia.

"Kazakhstan is absolutely in favor of exporting the majority of its oil, if not all of it, via Russian territory," Reuters quoted the Kazakh president as telling Putin.

Kazakhstan exported 52.3 million tons of oil in 2006, of which about 80 percent traveled through Russian pipelines, according to the news agency.

Enough Oil For Everyone?
Nazarbaev's comments raised questions about Kazakhstan's commitment to plans to transport Kazakh oil across the Caspian Sea to Azerbaijan, from where it would be pumped into the BTC pipeline.

Uzakbai Karabalin, the president of the Kazakh state oil company KazMunaiGaz, announced in January that a memorandum of understanding had been signed with several international companies for the $3 billion project, dubbed the Kazakh Caspian Transport System.

Aliyev told RFE/RL that Kazakhstan's cooperation with Russia was expected, and that it did not mean that the establishment of an alternative oil route through Azerbaijan is not viable.
"We knew and believe that Kazakhstan will always cooperate with Russia," Aliyev said. "I mean, Kazakhstan will never go in another direction. We understand it now, too. But there is another way. Going via [the Russian Black Sea port of] Novorossiisk, [the Black Sea port of Burgas], and then via [the Greek port of Alexsandroupolis] is the longer way, and oil tankers are more likely to capsize. But if the companies operating in Kazakhstan decide that it's better to join the BTC, to go via Azerbaijan, then we can arrange that."

Aliyev added that the Kazakh representative at the Crakow meeting "gave us hope."

"[The Kazakh president's] representative was there [in Poland], he spoke there," Aliyev said. "He gave us hope, saying that Kazakhstan will do its best to transit its energy resources, especially gas and oil through 'the Western way,' too. I think it's important for us."

Azerbaijani officials have said it would be possible to expand the capacity of the 1,770-kilometer BTC pipeline to make room for Kazakh oil.
Overshadowed By Gas Deal

The Crakow summit was highlighted by a deal agreed on May 12 during three-way talks between Putin, Nazarbaev, and Turkmen President Gurbanguly Berdymukhammedov to build a natural-gas pipeline along the Caspian coast.

The pipeline will carry natural gas from Turkmenistan to Europe via Kazakhstan and Russia, and further consolidates Moscow's control of regional energy shipments.
(This is a corrected and expanded version of the original article published on May 16, 2007)
Exporting Kazakhstan's Energy
Exporting Kazakhstan's Energy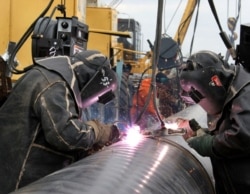 Work on a Kazakh pipeline (TASS file photo)


PRESSURE FROM THE KREMLIN? Columbia University political science professor Kimberly Marten told an RFE/RL briefing that Russia seems to be using its control of gas pipelines in the former Soviet Union to pursue its goals in Kazakhstan.
LISTEN
Listen to the entire briefing (about 60 minutes):

Real Audio
Windows Media
RELATED ARTICLES
The Emerging Post-Soviet Petrostates
Nazarbaev, Merkel Discuss Energy, Bilateral Ties
Nazarbaev Talking Energy, Economic Cooperation On China Visit
ARCHIVE
RFE/RL's coverage of
Kazakhstan
.