Russian Foreign Minister Sergei Lavrov -- who participated in today's talks between Putin and Rice at Putin's residence outside Moscow -- said the two agreed that "rhetoric in public exchanges should be toned down and we should focus on concrete issues."
Lavrov also said the two sides agreed to try to seek a mutually acceptable solution on the final status of the UN-administered, Serbian province of Kosovo.
No 'Ready Solution' On Kosovo
But speaking later at a press conference later with Lavrov, Rice said she could not "see a ready solution" to the impasse over Kosovo, and both officials agreed no progress had been made.
Russia is opposed to independence for Kosovo, fearing that it might encourage some restive Russian and former Russian republics.
Russia also opposes U.S. plans to set up a missile-defense system in Europe.
Today Rice told journalists that no country has veto power over the U.S. plan, adding that "the United States needs to be able to move forward to use technology to defend itself."
In response, Lavrov repeated Russia's belief that the European missile system represents a new threat, not a defense.
No New Cold War
Rice has been in Moscow for two days, trying to smooth over U.S.-Russian relations before Putin and U.S. President George W. Bush meet at a summit of Group of Eight (G8) leaders in Germany next month.
On May 14, the U.S. secretary of state rejected the idea that a new Cold War had begun between the two countries, but said that emotionally charged comments by Russian officials were not constructive.
In recent months, Russian officials, including Putin, have been increasingly critical of the West, and in particular, the United States.
Last week, Putin made comments that many observers said compared U.S. policy to Germany's Third Reich. The Kremlin has since said Putin did not intend to make that comparison.
With an EU-Russia summit in the southern Russian city of Samara coming up on May 18, Russia's relations with the union don't look much better.
Steinmeier: A 'Difficult' Summit
German Foreign Minister Frank-Walter Steinmeier is also in Moscow to hold talks with Putin, in an attempt to narrow the gap in divisions ahead of the summit.
Germany currently holds the rotating EU presidency.
Efforts to come to an agreement on a new strategic-partnership accord between Russia and the EU remain on hold, with Warsaw vetoing the talks as a result of Moscow's ban on Polish meat imports.
Sergei Yastrzhembsky, Putin's representative for EU affairs, said today that given the Polish veto, "there is no real sense" in even discussing the deal when Russian and EU officials meet at the Samara summit.
Russia's ambassador to the European Union, Vladimir Chizhov, speaking yesterday to Reuters in Brussels, underscored the differences between the two countries.
"I would say there are a number of issues that have been stalling [EU-Russian relations] -- some for well-known reasons, others for less well-known reasons -- and we could have achieved more progress definitely," he said.
Speaking after his meeting with Putin today, Steinmeier said the summit was likely to be difficult.
"Is it the right time for a European-Russian summit?" he asked. "I am very happy that today, in the [foreign ministers' meeting], no one proposed that we cancel the summit. I personally hold the belief that we need talks precisely when times are more difficult."
Russia And The EU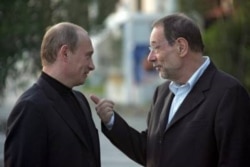 Russian President Vladimir Putin (left) with EU foreign policy representative Javier Solana in Sochi in May 2006 (epa)


A POLICY OF APPEASEMENT? Ralf Fuecks, head of the Heinrich Boell Foundation and a Green Party activist, spoke at RFE/RL's Prague broadcast center about the EU's complex relations with a resurgent Russia. RFE/RL President Jeff Gedmin moderated the discussion.
LISTEN
Listen to the entire briefing (about 60 minutes):

Real Audio
Windows Media
RELATED ARTICLES
Moscow Hosts PACE Standing Committee
Brussels Mulls Over Its Energy Sources
Council Of Europe 'Convinced' Of Chechnya Torture
ARCHIVE
RFE/RL's coverage of
Russia
.