The warnings follow an agreement between Russia and resource-rich Central Asian states Kazakhstan and Turkmenistan to build a new pipeline to carry natural gas to Europe via Russia.
Adding to the concern is the perception that Kazakh President Nursultan Nazarbaev might be leading his country back into the Russian sphere of influence.
U.S. Energy Secretary Samuel Bodman said the gas-pipeline agreement signed by the presidents of Russia, Turkmenistan, and Kazakhstan on May 12 is "not good for Europe."
The tripartite deal involves building a new pipeline to carry Turkmen natural gas to Europe via Kazakhstan and Russia. It therefore continues the virtual monopoly of Russia over the movement of Turkmen gas, and stymies Western hopes to gain direct access to the Turkmen gas fields.
Speaking in Paris at a meeting of the International Energy Agency on May 14, Bodman said Europe needs to diversify its energy sources. There are perceptions in the West that the Kremlin is prepared to use its control over energy supplies to exert political and economic pressure on dependant customer states.
In Washington, U.S. State Department spokesman Tom Casey touched on the same theme.
"Our goal ought to be -- as the [Group of Eight industrialized countries] described it -- a diversification both of sources and routes of transport for energy, not only in Europe but throughout the world," Casey said. "And certainly, we also want to see deals made based on what are commercially viable means and methods rather than for any kind of political considerations."
'The Right Time'
Georgian parliament speaker Nino Burjanadze issued a separate caution in remarks she made at RFE/RL headquarters in Prague on May 14.
She said it is important for Europe to avoid dependence on a single source for energy, and she urged Europeans to develop alternative delivery pipelines that bypass Russia in favor of Georgia, Azerbaijan, and Turkey.
"Today is the right time for Europe to think about energy security, to think about diversification of energy resources, because we, Georgians, know the price of [being without] energy independence," Burjanadze said.
However, the just-ended trip of Russian President Vladimir Putin to Kazakhstan and Turkmenistan produced other bad news for the West.
'Committed' To Russia
Putin in Astana heard an assurance from Nazarbaev that Kazakh oil will continue to be piped through Russia.
"Kazakhstan is absolutely committed to transporting most of [its oil], if not all of it, through Russian territory," Nazarbaev said.
Previously, the Kazakhs had espoused a U.S.-backed plan to route an oil pipeline under the Caspian Sea to Baku in Azerbaijan, and then westward. But both Russia and Iran opposed that pipeline ostensibly on environmental grounds, and the scheme now seems dead.
Another sign of the increasing coziness between Russia and the veteran Nazarbaev is the accord signed by officials on May 10 under which Russia and Kazakhstan will jointly develop a uranium-enrichment plant in Irkutsk.
Kazakhstan will supply uranium for the project, which is envisaged as supplying the material in enriched form to other countries for use in civilian nuclear energy projects. The idea is that such countries -- like Iran -- would thus not have to develop their own enrichment processes, which could tempt them to find military applications for highly enriched material.
The results of the Putin trip have raised the question of whether Nazarbaev is leaning toward Russia in the struggle for influence in Central Asia between Russia, China, and the Western powers.
Pragmatic Move
Eurasia expert at Jane's strategic publishing group, Matthew Clements, said he sees the Kazakh president's stance as mainly pragmatic.
"Nazarbaev has been playing a very pragmatic foreign-policy tune for the last five or six years, which basically has involved trying to get the best deal for Kazakhstan through its energy deals, whether that be from Europe through the Caspian, or from Russia, or from China," Clements told RFE/RL. "He has engaged all these countries, and the recent deal with Russia is a clear statement that he is going to take whatever offer suits him best."
Clements did not rule out, however, that Kazakhstan under Nazarbaev could adopt a long-term policy to align itself with one of the major powers contending for regional influence.
Exporting Kazakhstan's Energy
Exporting Kazakhstan's Energy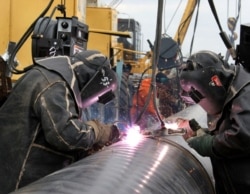 Work on a Kazakh pipeline (TASS file photo)


PRESSURE FROM THE KREMLIN? Columbia University political science professor Kimberly Marten told an RFE/RL briefing that Russia seems to be using its control of gas pipelines in the former Soviet Union to pursue its goals in Kazakhstan.
LISTEN
Listen to the entire briefing (about 60 minutes):

Real Audio
Windows Media
RELATED ARTICLES
The Emerging Post-Soviet Petrostates
Nazarbaev, Merkel Discuss Energy, Bilateral Ties
Nazarbaev Talking Energy, Economic Cooperation On China Visit
ARCHIVE
RFE/RL's coverage of
Kazakhstan
.