Putin made the remarks at a meeting with Turkmen President Gurbanguly Berdymukhammedov in Turkmenistan's capital, Ashgabat.
Putin, Berdymukhammedov, and Kazakh President Nursultan Nazarbaev are due to hold a summit in the coastal city of Turkmenbashi on May 12 focusing on plans to build a pipeline that would carry natural gas from Turkmenistan through Kazakhstan and Russia to Europe.
On May 10, the Russian and Kazakh presidents agreed that more Kazakh oil exports to Europe will be shipped through Russian territory.
As the leaders address energy issues in Turkmenistan, Polish President Lech Kaczynski is hosting a separate two-day energy summit that starts today in the Polish city of Krakow.
The presidents of Georgia, Azerbaijan, Ukraine, Lithuania, and Kazakhstan have been invited to the meeting to discuss possibilities for transporting oil from the Central Asian region to West European pipelines without going through Russia. Kazakhstan's Nazarbaev opted out of the Polish summit to attend the talks in Ashgabat.
(compiled from agency reports)
Exporting Kazakhstan's Energy
Exporting Kazakhstan's Energy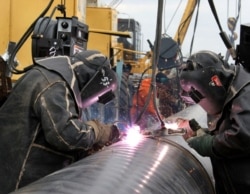 Work on a Kazakh pipeline (TASS file photo)


PRESSURE FROM THE KREMLIN? Columbia University political science professor Kimberly Marten told an RFE/RL briefing that Russia seems to be using its control of gas pipelines in the former Soviet Union to pursue its goals in Kazakhstan.
LISTEN
Listen to the entire briefing (about 60 minutes):

Real Audio
Windows Media
RELATED ARTICLES
The Emerging Post-Soviet Petrostates
Nazarbaev, Merkel Discuss Energy, Bilateral Ties
Nazarbaev Talking Energy, Economic Cooperation On China Visit
ARCHIVE
RFE/RL's coverage of
Kazakhstan
.