Ebadi has announced that her Tehran-based legal group intends to defend Esfandiari, but says that Iranian judiciary officials have not yet cleared the way for her team to represent the prisoner, nor to meet with her.
Ebadi told Radio Farda on May 17 that Iranian authorities have also not yet informed her legal team of the charges against Esfandiari, who is being held in Iran's notorious Evin prison.
"Unfortunately," said Ebadi, "the style of the Revolutionary Court regarding those charged with political crimes is such that it never allows lawyers to meet their clients or to be informed about the charge against them or the reasons for it. All of these actions I mentioned are against the law and we have always protested against [such actions]."
"The charges that have been brought against Haleh Esfandiari by some extremist newspapers are baseless."
Ebadi said that by denying Esfandiari access to legal representation, Iranian authorities are violating Iranian law.
Esfandiari, the director of the Woodrow Wilson International Center in Washington's Middle East Program, had traveled to Iran in December to visit her 93-year-old grandmother.
She was taken to Tehran's Evin prison on May 8 following repeated interrogations by intelligence officials.
Accused Of 'Security' Crimes
Esfandiari had been under virtual house arrest since December 30, when, according to the Wilson center, three masked gunmen ambushed her taxi and stole her luggage -- including her Iranian and American passports -- while she was heading to Tehran airport for her departure to Washington.
Tehran said earlier this week that Esfandiari has been detained on security charges.
On May 12, the hard-line daily "Kayhan" accused Esfandiari of involvement in efforts to topple Iran's Islamic regime, and alleged that she is a main element of Israeli efforts to spur revolution in Iran.
Esfandiari's husband has denied the accusations against his wife.
Ebadi has also dismissed the suspicions as groundless, saying: "The charges that have been brought against Haleh Esfandiari by some extremist newspapers are baseless and they're not compatible with her personality, behavior, or her past."
U.S. officials have condemned Esfandiari's arrest, and human rights groups have called for her immediate release.
In Iran, a prominent human rights defender, Emad Baghi, told Radio Farda that Tehran should give Esfandiari fair treatment.
"Judiciary and security officials should act based on human rights laws and respect the principles of a fair trial," Baghi said. "Unfortunately, the problem we are facing here is that a government paper has used the expression 'spy' about [Esfandiari] before she has been put on trial. This happens at a time when that person is in prison and is not able to defend herself."
Iranian officials have said that Esfandiari's arrest was based on Iranian laws and that she will be treated like any other Iranian national.
Esfandiari was born in Iran and holds U.S. citizenship.
(Radio Farda contributed to this report)
Ramin Jahanbegloo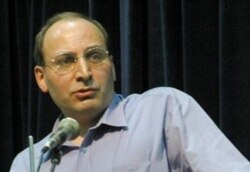 Ramin Jahanbegloo speaking in Tehran in 2004 (AFP)

THE FOURTH WAVE: In late April, it was announced that the Iranian authorities had arrested noted intellectual RAMIN JAHANBEGLOO. Jahanbegloo is a professor of philosophy in Iran and Canada and is the author of more then 20 books, including "Moje Chaharom" ("The Fourth Wave"). In November 2004, Radio Farda correspondent Fatemeh Aman interviewed Jahanbegloo about the current generation of Iranian intellectuals and its distinctive features.
Radio Farda: It seems that in your book you see a unique status and mission for the fourth generation in the process of progress and democratization in Iran. Why is that and what are the most important characteristics of this generation of intellectuals?
Ramin Jahanbegloo: The fourth generation is distinct from former ones for several reasons. First this is a democratically minded generation that cares about democratic values. This generation has a political approach toward these values and, importantly, it is heavily colored by the active presence of women. The other distinct feature of this generation is its belief in modernity. This modernity is not an imitation one, but rather is based on discourse. If in the past many thought they can become modern by imitating the Western way of life, today's intellectuals know that the real route to modernity is by understanding the modern world in the West and channeling this thought process into social, cultural, and political institutions....(more)

RELATED ARTICLES
Rights Advocate Calls Scholar's Arrest A Troubling Sign
Rights Groups Demand Scholar's Release
Iranian Activists Fear Looming Crackdown
ARCHIVE
For an archive of all of RFE/RL's coverage of Iran, click here.