Tajikistan: Conference Highlights Lake Sarez Risk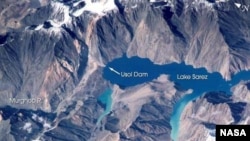 A satellite view of Lake Sarez and the Usoi dam, at left (NASA) May 21, 2007 (RFE/RL) -- An international conference convenes in Tajikistan on May 22 to discuss long-term solutions to the potential threat that Lake Sarez, in Central Asia's Pamir mountain range, could someday sweep down and put homes and people at risk over a massive area.
In 1911, a strong earthquake in eastern Tajikistan triggered a massive landslide that became a natural blockage that is now known as the Usoi Dam.
The resulting lake, perched more than 3,000 meters above sea level, is now 60 kilometers long and as deep as 500 meters. It holds an estimated 17 cubic kilometers of water.
Scientists and local populations fear that another powerful earthquake could rupture the dam or trigger a huge wave that could cascade down the mountain.
Local resident Gelos Mamadloikov tells RFE/RL that the scenario is a genuine possibility.
"On August 22, 1987, a huge rock fell into the lake 12 kilometers from the Usoi Dam," Mamadloikov says. "The 18-million-cubic-meter rock fell into three pieces, creating a wave of 16-17 meters all sides of the lake. The level rose 3 to 4 meters [at the location] where the geological station stands. At the Usoi [Dam] and the Sangtuda hydropower plant, [the wave] reached 2 meters."
International Attention
Dushanbe will host the International Conference on Sarez Lake on May 22-23 to discuss results of recent scientific researches and long-term solutions to the threat. The previous such gathering took place in 1997.
The event is organized by Tajikistan's Committee for Emergency Situations and Civil Defense and the UN Strategy for Disaster Reduction (ISDR).
Gulsara Pulatova, a senior adviser for the UN/ISDR Central Asian office in Dushanbe, tells RFE/RL that one of the long-term options could be to gradually lower the water level at the lake.
"For example, one could drain [water] through a tunnel so that the lake is kept in a normal condition and no longer presents a danger," Pulatova says. "The drained water could be used for peaceful purposes -- such as electrical-power generation or maintaining the balance in the Amudarya and Panj rivers."
Tajikistan and the international community have already provided more than $4 million in the past 10 years to closely monitor the dam, create an early-warning system, and implement other projects aimed at avoiding a major human catastrophe.
...And Local Anxiety
In April, residents of the Bartang Valley received training in emergency procedures in the event that the Usoi Dam were to break.
Local resident Sarkor Davlatmamatov tells RFE/RL that he was surprised that some 200 villagers -- including women, children, and elders -- could leave the danger zone in just 25 minutes.
"People left the danger zone very quickly in an organized way," Davlatmamatov says. "If a real [catastrophe] happens, people will be able to leave the danger zone without problem."
But observers suggest that resources will be key to reducing the threat.
Tajikistan's budget does not allow the government to provide the major investment required to completely eliminate the threat caused by Lake Sarez.
That is likely to leave Tajik authorities, residents, and interest groups looking to the international community for the kind of financial support that might help avert a disaster in the shadow of Tajikistan's Pamir Mountains.
(Iskander Aliev from RFE/RL's Tajik Service contributed to this report.)
The Post-Soviet Environment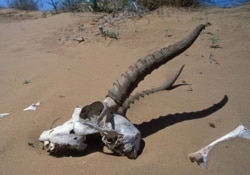 The skull of a male saiga antelope in Kalmykia. Saiga numbers have collapsed disastrously over the last decade. (shpilenok.com)
THE FRAGILE PLANET:
Since the collapse of the Soviet Union, old environmental disasters have come to light and new ones have emerged. War, poverty, and weak central-government control have led to serious environmental problems from Eastern Europe to the Russian Far East. RFE/RL has provided extensive coverage of these important issues and of efforts to cope with them.
RELATED ARTICLES
Saiga Antelope's Saga Attracts New Allies
Project To Reverse Aral Sea Damage Making Progress
Iraqi Marshes Show Signs Of Strong Recovery
Deforestation Rampant In South And Central Asia
Environmentalist Says BTC Pipeline Could Be 'Death Of Caspian'
Scientists Raise Alarm As Man-Made Deserts Spread
Nature Waits For Cross-Border Sanctuaries To Catch On
Central Asian Vllagers Encouraged To Protect Snow Leopards
Environmentalists Raise Concerns About Russian Ecology Policy
ARCHIVE
RFE/RL coverage of environmental issues
.