(In a separate interview, Maher spoke to Jim Riccio , a nuclear policy analyst with the environmental watchdog Greenpeace.)

RFE/RL: Greenpeace says reports from the World Health Organization (WHO) and the International Atomic Energy Agency (IAEA) have downplayed and even deliberately reduced the number of cancers that have occurred as a result of the accident at Chornobyl. How do you respond?

Thomas Tenfordee: The information I have is that they documented about 4,000 thyroid cases among the exposed population, but nearly all of them were successfully treated. More than 99 percent of them were treated and have survived. So the number of fatalities was small, even though the incidence was quite high compared to what you would normally expect for a population of that size, with the age distribution they have.

I think they've done a good job in containing the problem. I don't believe there's been any effort to conceal information. I think it's available in the "Chornobyl Forum" [report, from the United Nations] and a variety of other publications. The question that is being examined now is are there other types of disease that may have been related to radiation exposure and people are looking to see if there's any evidence for an increase in leukemia or breast cancer, or other types of noncancer thyroid diseases.

Right now the jury is still out in terms of whether there is a statistically significant increase in those cancers among the most highly exposed individuals. Right now, there's maybe hints of a little excess in breast cancer and leukemia in the most highly exposed people but as I say, the jury is still out on that, so it will be very important to continue watching and monitoring that population and see what might develop over the coming years.

RFE/RL: A report by the IAEA has recommended that the governments in affected areas put more effort into easing what it calls the "psychological burden" of the population affected by the accident -- people who have been displaced from their homes, etc. Greenpeace says this is an attempt to divert attention from serious illnesses that are occurring. Is the IAEA right to worry about people's stress levels?

Tenfordee: That is, I think, well established. There was great anxiety and I think there was an elevated rate of abortions among pregnant women who were exposed or potentially exposed in the Belarus or Ukrainian areas that were affected. Dr. Evelyn Bromet at Brookhaven National Laboratory is an expert in that area and has studied the psychological stress and trauma suffered by some of the population and I don't believe there's any debate about whether there was a lot of psychological stress and trauma. I believe that's pretty well established and accepted by everyone.

RFE/RL: Greenpeace also says that UN agencies like WHO and the IAEA have signed a memorandum of understanding that essentially says they agree not to say bad things about nuclear energy. Because of this memo, Greenpeace says the effects of Chornobyl have been "whitewashed." How do you answer that criticism?

Tenfordee: I know there is great concern about the public response to any nuclear accident. You're fully aware of the rather overblown response in the United States to Three Mile Island, [the 1979 accident at the Three Mile Island nuclear power plant in New York state] which really released so little radiation in the public domain that you'd be hard-pressed to say there was any excess cancer at all. Of course, Chornobyl was a much different story, that was a much more major event that released a lot of potentially harmful radiation and the reaction worldwide was very strong.

And so those who feel that the nuclear option is an alternative to carbon-based fuels that are polluting the atmosphere and possibly causing global warming -- in fact, very likely causing global warming -- I think there's a tendency to try, I don't know what the right word is, maybe downplay the effort or the significance [of Chornobyl]. The nuclear industry is really working hard, I'm quite familiar with what they're doing to improve the safety of nuclear power reactors.

The new generation of reactors will have some marvelous safety features that the older reactors didn't have and, of course, operationally there's a new awareness of the need to proceed in a proper and cautious manner in any reactor operation. And when you have people doing experiments that were inappropriate, under the wrong conditions, you invite accidents like Chornobyl.

And that was just a very tragic, misguided effort by some operators at the Chornobyl No. 4 reactor that should never have happened. So I guess the point that probably is being made, and I haven't heard this directly myself but I can imagine that the attitude is look, the nuclear industry is trying very hard to be safe because it is a viable option for expanding our power-production capabilities and the fact that there were a few people who did some very stupid things that led to some tragic outcomes should not reflect on the entire nuclear industry.

RFE/RL: If you were living in one of the affected regions, how would you go about finding objective and truthful information about, for example, whether it's safe to eat food produced in the contaminated region, or to move back to one of the evacuated areas?

Tenfordee: Well, if you're talking about people in the former Soviet Union, there are some very credible and honest scientists at the Russian Academy of Sciences. And there are other institutes near Kyiv and I would advise them to seek advice and counsel from the scientists at these institutes because they have studied and published widely on the sciences and health consequences and I have found them to be very honest, credible people.

And one thing that's important that I think people don't realize is that radioisotopes like iodine-131 decay pretty fast, in other words, iodine-131 loses half of its radioactivity level in eight days. So here we are many years past the Chornobyl events, so the iodine-131 has all decayed into harmless daughter products.

So levels of radiation are orders and orders less than they were immediately after the accident. So people tend not to understand that, and think, if it's radioactive today it will be radioactive forever. Well that's not actually true with nearly all types of radioactivity.

There are some very long-life radio isotopes and some of those were released but they were in minor quantities compared to iodine-131 and even cesium-137, another major byproduct. That has about a 30-year half-life, so we're only halfway decayed down and that's still a major contaminant.

But I recommend that they seek the advice and guidance of the scientists at the Russian Academy of Sciences and I would think their local medical services should be able to provide them with answers to their questions.

Those are not unreasonable questions, the public asks that all the time, and they have a right to know and a right to get the correct information. So the answer is, yes there's still contamination, but it's already much less than it was immediately after the accident, and there's been a major effort to try to clean up the contaminated areas. And the Ukrainian government in particular has really gone to some great lengths to try and ensure the safety of the land and the food products and the water, as best they can.

Chornobyl Contamination Zones
Chornobyl Contamination Zones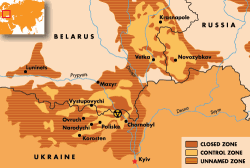 Click on the map to enlarge.

THE DIRTY ZONE: Within a month of the April 26, 1986, Chornobyl explosion, Soviet authorities had evacuated almost 120,000 people from a zone within 30 kilometers of the plant. However, contamination by radioactive isotopes, particularly cesium-137, which has a half-life of 30 years, spread over a much wider area.
The map above shows the four areas of cesium-137 contamination across Belarus, Russia, and Ukraine. The Closed Zone shows contamination more than 40 curies per square kilometer, the Control Zone includes the Permanent Control Zone (15-40 curies per square kilometer) and Periodic Control Zone (5-15 curies per square kilometer), and the Unnamed Zone shows contamination of 1-15 curies per square kilometer.

Click on the icon to view the slideshow