Iraqi Shi'ite Leader In Iran For Cancer Treatment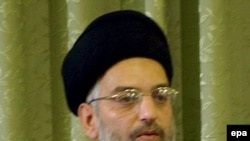 raqi Shi'ite leader Abd al-Aziz al-Hakim (epa) May 21, 2007 -- Iraqi Shi'ite leader Abd al-Aziz al-Hakim is in Tehran today for medical tests.
Al-Hakim is head of the Supreme Islamic Iraqi Council, formerly known as the Supreme Council for the Islamic Revolution in Iraq (SCIRI). The party, founded as an opposition movement in exile in Iran in 1982, is one of the most powerful blocs in the Iraqi government.
Officials in al-Hakim's party are quoted as saying he has a treatable form of lung cancer and has had trouble breathing.
Al-Hakim recently traveled to the United States for diagnosis.

(AFP, dpa, AP)

SUBSCRIBE For weekly news and analysis on Iraq by e-mail,
subscribe to "RFE/RL Iraq Report."