While the movement has essentially kept its promise, it has been relatively active in pursuing alliances with other political entities, which may be an indication of the shifting political landscape.
According to a May 8 report in "Al-Hayat," al-Sadr announced that his organization has initiated a new political project called "reform and reconciliation." The aim of the project is to establish a broad coalition of political parties, regardless of sectarian affiliation, in order to move toward national reconciliation.
Reaching Across Sectarian Lines
This would not be the first time al-Sadr has reached out to other political parties to create alliances. The Saudi daily "Al-Watan" reported on April 22 that former Iraqi Prime Minister Iyad Allawi met with al-Sadr and his representatives in the holy city of Al-Najaf, in the hopes of having al-Sadr's movement join Allawi's developing political coalition, the Iraq National Front.
U.S. and Iraqi officials have long suspected that as al-Sadr's popularity grew and the ranks of his organization swelled, he might at some point have lost control of some of his followers
More significantly, al-Sadr has sent envoys to Sunni tribal leaders and politicians in an effort to create stronger ties. According to the "Al-Hayat" report, the reasoning behind his aggressive courting of Sunni leaders is to shed his organization's sectarian image and reputation. The paper states that al-Sadr representatives have been in contact with Sunni figures "outside of Iraq" in order for the movement "to regain its image as a 'resistance organization' rather than a sectarian one."
Such a rebranding moves the group more in line with nationalist overtones of the Sunni agenda. Al-Sadr's group has been the scourge of the Sunni Arabs, being blamed for the majority of the sectarian attacks against the Sunni population, and shedding this image would cast it in a different light the eyes of the Sunnis and among Iraq's Sunni neighbors, many of whom view the minority Sunnis as being victimized by the majority Shi'a.
A More Centralized Movement
Furthermore, the organization has initiated wide-ranging internal reforms to purge rogue elements that have been operating beyond the reach of its central authority and that have been involved in sectarian attacks.
"The process aims to isolate the harmful elements -- leaders and individuals who sought to exploit their position inside the [movement]," said Sheikh Abu-Ja'far al-Ibadi, a leader in the Imam Al-Mahdi Army.
Certainly, U.S. and Iraqi officials have long suspected that as al-Sadr's popularity grew and the ranks of his organization swelled, he might at some point have lost control of some of his followers. In fact, some of those followers may have associated themselves with al-Sadr in name only, for the sake of prestige and may have undertaken actions without consent or knowledge of the central leadership.
These changes coincide with the al-Sadr's movement's increasingly shaky relationship with the dominant Shi'ite coalition, the United Iraqi Alliance (UIA), of which Prime Minister Nuri al-Maliki's Al-Dawah Party is a part. In mid-April, the six cabinet ministers from al-Sadr's group resigned to protest al-Maliki's unwillingness to establish a timetable for a withdrawal of U.S. forces from Iraq. Prior to that, on January 21, al-Sadr's movement ended a nearly two-month boycott of the Iraqi parliament to protest al-Maliki's meeting with U.S. President George W. Bush in Amman, Jordan.
Moreover, al-Sadr has had a testy relationship with the UIA's other major figure, Abd al-Aziz al-Hakim, the leader of the Supreme Council for the Islamic Revolution in Iraq (SCIRI). Al-Hakim and his organization are the dominant force behind the UIA, with the largest share of seats in the alliance -- 36 -- and control of a powerful militia, the Badr Organization. There have been numerous reports of a power struggle between SCIRI and al-Sadr's group to control several Shi'ite population centers in southern Iraq. Armed clashes have resulted between the Badr Organization and the Imam Al-Mahdi Army in Baghdad, Al-Diwaniyah, and Al-Najaf.
"These clashes are a result of the contrast between the local agenda of [the al-Sadr movement], and SCIRI's agenda, which is supported by foreign parties," Ahmad al-Sharifi, a leader in al-Sadr's movement, told "Al-Zaman" on May 6. "The UIA has become an alliance rife with incompatibilities. Every party in it is waiting for an opportunity to destroy the others."
It is unclear whether al-Sharifi was referring to rumors that Badr fighters have cooperated with the U.S.-led coalition against the Imam Al-Mahdi Army, most recently in Al-Sadr City on May 6. Or he might have been referring to Iran, which has historic links to SCIRI -- al-Hakim lived in exile in Iran during the Saddam Hussein era and the Badr Organization was trained by Iran's Islamic Revolution Guards Corps.
Looking Forward
Mounting tensions with SCIRI have made al-Sadr rethink his relationship to UIA and his place in the alliance. His internal reorganization plan and his ever-increasing distance from the UIA underscores a new forward-thinking strategy -- preparing for the political realities that would ensue after a U.S. withdrawal. With Washington debating setting a withdrawal date for U.S. forces, the idea of a U.S pullout is becoming more of a reality. Therefore, al-Sadr's purging, reorganization, and caucusing with Sunni groups is likely designed to place him in the strongest possible position if and when that happens.
Moreover, by distancing himself from the ruling Shi'ite coalition, he absolves himself of any failures associated with the current government, including the absence of an oil-revenue law, the lack of progress on constitutional amendments, and the inability to pass legislation to allow Ba'athists to resume their positions. Most importantly, if the current government is not able to deliver on security with the Baghdad security plan, it may create the opening for a figure like al-Sadr to step in. In fact, with al-Maliki's position seeming increasingly fragile, it would seem strategically advantageous for al-Sadr to keep his distance.
Muqtada Al-Sadr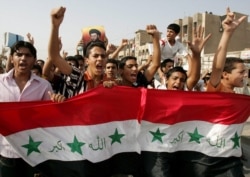 Al-Sadr supporters demonstrating against the U.S. presence in Iraq in October 2006 (epa)

A RADICAL CLERIC. Shi'ite cleric Muqtada al-Sadr is a key figure in Iraq. He heads the Imam Al-Mahdi Army militia and a political bloc that is prominent in parliament and the government. His ties to Iran have also provoked concerns in some quarters.
RELATED ARTICLES
Cracking Down On Al-Sadr No Easy Task
Political Parties Consider Uniting Against Al-Sadr
Is Al-Sadr Stirring The Pot Or Promoting Peace?
Radical Shi'ite Cleric Calls For Shi'ite-Sunni Unity
Al-Sadr Reasserts Himself -- This Time Against Coreligionists