Al-Sadr's political bloc, with 30 seats in parliament and control of six ministries, has become a significant partner in Prime Minister Nuri al-Maliki's political coalition. Al-Sadr flexed his political muscle late last year when he suspended his bloc's participation in the Iraqi government to protest al-Maliki's decision to meet with U.S. President George W. Bush on November 30 in Amman, Jordan. This decision brought the Iraqi political process virtually to a halt -- and may have pushed al-Maliki to take a tougher stance toward al-Sadr.
Since the February 14 start of the Baghdad security plan, the Imam Al-Mahdi Army has taken an extremely low profile. Leading figures from the militia have insisted its fighters are cooperating with the operation and will not take up arms against U.S. and Iraqi forces even if confronted, thereby establishing a de facto truce. In fact, al-Sadr himself and many of his first-tier associates are rumored to have left Iraq for Iran to avoid the crackdown.
Al-Sadr's influence has not waned since he assumed a lower profile and the sheer size of the Al-Najaf demonstrations indicates that his support remains high.
Al-Diwaniyah An Ominous Portent?
U.S. military leaders have noted that since the militia has largely kept itself in check, the number of sectarian killings linked to death squads has dropped. However, the recent violence in Al-Diwaniyah and al-Sadr's call on April 9 for Iraqis to unite against the U.S. occupation may be an indication that his cooperation with the U.S. is waning.
On April 6, U.S. and Iraqi forces launched Operation Black Eagle in the central city of Al-Diwaniyah in an effort to drive out militiamen loyal to al-Sadr who reportedly had been clashing with local police for months. Two days of intense fighting ensued, with the U.S. launching air strikes and house-to-house searches. On April 8, a curfew was imposed and U.S. and Iraqi forces continued to patrol the streets.
Reports emerged in the Iraqi and Western press that members of the Imam Al-Mahdi Army had moved to Al-Diwaniyah and other cities in central and southern Iraq to escape the Baghdad crackdown.
The influx of Al-Mahdi Army members in Al-Diwaniyah has amplified tensions with a rival Shi'ite organization, the Supreme Council for Islamic Revolution in Iraq (SCIRI), which dominates the provincial councils. The tensions have at times boiled over, with both sides accusing the other of instigating violence and carrying out reciprocal assassinations.
Residents have also accused al-Sadr's militia of terrorizing the local population, accusing them of killing dozens of civilians, including women who have refused to follow the group's austere brand of Islamic morality. Local officials said that up to 60 people had been killed in March alone.
The situation in Al-Diwaniyah became volatile enough for the U.S. military to launch an operation against al-Sadr's militia. After nearly two months of relative calm, this latest operation may signal an end to the de facto truce with al-Sadr.
'Avoid The Trap'
In response to the clashes in Al-Diwaniyah, al-Sadr issued a statement on April 8 calling for an end to the fighting, saying that it was a "trap" laid out by the United States to divide Iraq by stoking violence.
"My brothers in the Al-Mahdi Army and in the security services -- stop fighting," al-Sadr's statement said. "By fighting, you will be making successful the schemes of our enemy, your enemy, and the enemy of Allah. Infighting among brothers is not right at all, nor is following the dirty American sedition. Defending the occupier by some people is not right."
Al-Sadr's words fell short of calling on his supporters to rise up against the United States, as it did on two occasions in 2004. Instead, he called on all Iraqis to unite to end the occupation.
Furthermore, he called on Iraqis to travel to the holy city of Al-Najaf on April 9 to commemorate the fourth anniversary of the fall of Baghdad, underscore Iraqi unity, and to call for an end to the U.S.-led occupation. Some Iraqi officials estimated that as many as 600,000 Iraqis participated in that demonstration.
Salah al-Ubaydi, a senior al-Sadr official in Al-Najaf, described the rally as a call for liberation, state-run Al-Iraqiyah television reported on April 9. "We're hoping that by next year's anniversary, we will be an independent and liberated Iraq with full sovereignty," al-Ubaydi said.
Nasr al-Rubay'i, the head of al-Sadr's political bloc in parliament, said the demonstration was in response to the persecution of the Iraqi people by the occupation. "There are daily raids on the homes of Iraqis and flagrant human rights violations," al-Rubay'i told Al-Jazeera satellite television on April 9. "These masses want Iraq's independence, a real independence, not one on paper. They want Iraq's sovereignty, a real sovereignty."
Political Posturing?
While al-Sadr's comments give the impression he may again resort to violence against U.S. forces, particularly after the Al-Diwaniyah clashes, they could also be viewed as mere political bravado used to reassert his authority. What is certain is that his influence has not waned since he assumed a lower profile and the sheer size of the Al-Najaf demonstrations indicates that al-Sadr's support remains high.
Indeed, his call for Iraqis to demonstrate in Al-Najaf may be seen as an attempt to show that he still wields influence and power, even though he has remained out of sight.
In addition, the demonstration was relatively peaceful and al-Sadr cast himself as being part of the solution to achieve Iraqi unity, as opposed to the firebrand rabble-rouser who brought Iraq's legislative process to a halt in November and launched two uprisings against U.S. forces in 2004.
In fact, al-Sadr's cooperation with U.S. and Iraqi forces during the Baghdad security operation, until the Al- Diwaniyah clashes, showed a willingness to make compromises for the sake of improved security and an ability to show restraint in face of ongoing insurgent attacks.
Finally, on the highly symbolic anniversary of the fall of Baghdad, al-Sadr cast the U.S.-led occupation as the real obstacle hindering Iraq's movement toward stability. On a day when one might expect Iraqis to be celebrating the fall of the previous dictatorial regime and the beginning of a new era, thousands of Iraqis instead were out calling for an end to their country's occupation.
Muqtada Al-Sadr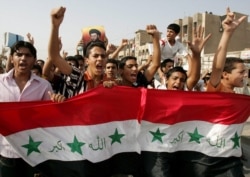 Al-Sadr supporters demonstrating against the U.S. presence in Iraq in October 2006 (epa)

A RADICAL CLERIC. Shi'ite cleric Muqtada al-Sadr is a key figure in Iraq. He heads the Imam Al-Mahdi Army militia and a political bloc that is prominent in parliament and the government. His ties to Iran have also provoked concerns in some quarters.
RELATED ARTICLES
Cracking Down On Al-Sadr No Easy Task
Political Parties Consider Uniting Against Al-Sadr
Is Al-Sadr Stirring The Pot Or Promoting Peace?
Radical Shi'ite Cleric Calls For Shi'ite-Sunni Unity
Al-Sadr Reasserts Himself -- This Time Against Coreligionists