Demonstrators waved red, white, and black Iraqi flags and clogged streets in Al-Najaf and 7 kilometers of road leading to that holy city.
A spokesman for the White House's National Security Council, Gordon Johndroe, defended progress since the U.S.-led invasion in 2003 and said Iraqis' ability to "freely gather and express their opinions" marks "a long way from the tyranny of Saddam Hussein."
The Al-Najaf rally was organized by radical Shi'ite cleric Muqtada al-Sadr, who has demanded a timetable for a U.S. exit.
But U.S. and Iraqi troops continued the fourth day of their fierce battle against gunmen said to be loyal to al-Sadr in the southern city of Diwaniyah.
The U.S. military reported today that one American soldier was killed in that fighting.
The streets 100 kilometers away in the Iraqi capital were contrastingly quiet on the April 9 anniversary, with a 24-hour ban on vehicles in an effort to thwart possible car bombings or other attacks.
(AP, Reuters)
Muqtada Al-Sadr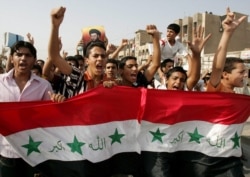 Al-Sadr supporters demonstrating against the U.S. presence in Iraq in October 2006 (epa)

A RADICAL CLERIC. Shi'ite cleric Muqtada al-Sadr is a key figure in Iraq. He heads the Imam Al-Mahdi Army militia and a political bloc that is prominent in parliament and the government. His ties to Iran have also provoked concerns in some quarters.
RELATED ARTICLES
Cracking Down On Al-Sadr No Easy Task
Political Parties Consider Uniting Against Al-Sadr
Is Al-Sadr Stirring The Pot Or Promoting Peace?
Radical Shi'ite Cleric Calls For Shi'ite-Sunni Unity
Al-Sadr Reasserts Himself -- This Time Against Coreligionists