Officials say that at least 15 people were killed and dozens of others injured in one attack today in the town of Mahmudiyah, south of the capital.
Reuters quoted the mayor of Mahmudiyah, Muaid al-Amiri, as saying a car bomb had exploded at industrial workshops, demolishing the multistory building.
Four others died in a car-bomb attack in Baghdad.
And an Iraqi policeman was killed when a roadside bomb targeted his patrol in Adhamiyah.
The U.S. military also announced the deaths of four U.S. soldiers, killed northeast of Baghdad on April 7.
The Iraqi government recently announced its extension of a joint U.S.-Iraqi security offensive that began in the capital in February to other cities.
Al-Sadr Calls For End To Cooperation With U.S.
Shi'ite cleric Muqtada al-Sadr has urged Iraqi forces to stop cooperating with the United States and instructed his followers to concentrate attacks on U.S. troops rather than Iraqis.
The call came in a statement distributed in the city of Al-Najaf today, one day ahead of a protest there to mark the fourth anniversary of the capture of Baghdad by U.S.-led forces.
The authenticity of the statement could not be verified, although at least one agency said it bore the stamp of al-Sadr's office.
Al-Sadr led two bloody campaigns against international forces before publicly joining the political process, but he still leads a network of armed fighters.
Baghdad Closed To Vehicles
Iraqi state television reported today that the Iraqi military has ordered a 24-hour vehicle ban in the capital on April 9, the fourth anniversary of Baghdad's fall to U.S.-led troops.
The ban also includes motorcycles.
Such bans in the past have been imposed to prevent vehicle bombings.
(compiled from agency reports)
Khamail Muhsin Khalaf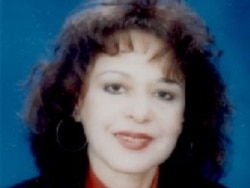 DEDICATED JOURNALIST: On April 5, the worst fears of the family and acquaintances of RFE/RL's Radio Free Iraq correspondent Khamail Muhsin Khalaf were realized when her body was recovered not far from her Baghdad home.
News of Khamail's death at the hands of her abductors elicited outrage and sorrow, and a vow by Iraq's Interior Ministry to bring to justice the killers of a woman who had "served Iraq for more than 30 years."
Khamail's husband, Muhammad, cited his late wife and mother of their three children's dedication to her work: "Even when she was ill, even when she was facing hard situations, even when she had family or social problems, her duty and attendance at work were most important."
Khamail's mother described the difficulty that authorities encountered even retrieving her daughter's body: "The police said that when commandos tried to clear the body from the street, gunmen were awaiting them and a shootout took place. The police commandos succeeded in clearing the body to Al-Yarmuk Hospital. I, her brother and his wife, and her uncles, we buried her, and here we are mourning her."
Please see:
Radio Free Iraq Reporter Found Dead In Baghdad
Iraqi Authorities Vow Justice For Journalist's Killers
Iraq: The True Voice Of Simple Iraqi People