Belarusian President Alyaksandr Lukashenka announced the plan after talks with Iranian President Mahmud Ahmadinejad in Minsk.
The Jofeir field, close to Iran's border with Iraq, could produce as much as 30,000 barrels of oil per day.
In televised comments after his arrival earlier today for a two-day visit to Minsk, Ahmadinejad said there was "huge potential" for long-term cooperation between Tehran and Minsk.
For his part, Lukashenka said Belarus was "ready for cooperation in all directions."
"Many approaches by the Islamic Republic of Iran to solving international problems are consonant with our views about a just world order," he said. "I'm confident that Iran, with its rich history, culture and its strong economic potential, can become one of the most influential centers of the international community."
Lukashenka's press service said the Belarusian president told Ahmadinejad that the Minsk-Tehran relationship had reached the level of "strategic partnership."
Minsk has actively sought new sources of energy as relations with Russia have soured.
Lukashenka's autocratic and isolationist regime had long depended on subsidized Russian energy supplies to maintain a stable economy.
A dispute with Moscow earlier this year, however, has left Minsk facing dramatically higher gas prices.
(AP, AFP)
Politics In Belarus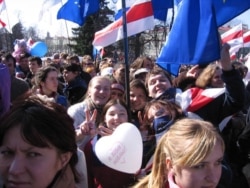 Demonstrators in Minsk on March 25 (RFE/RL)

WHAT HAPPENED? Belarus scholar Vitali Silitski and RFE/RL Belarus analyst Jan Maksymiuk took a look a how Belarus has changed since mass demonstrations in Minsk in March 2006 failed to produce meaningful change in that country.
LISTEN
Listen to the entire briefing (about 70 minutes):

Real Audio
Windows Media
RELATED ARTICLES
Has Regime Adopted New Tactics Toward Opposition?
Lukashenka Is Firmly In His Saddle, Despite A Bumpier Road
Why Can't Belarus's Opposition Just Get Along?
SUBSCRIBE
For weekly news and analysis on Belarus, Ukraine, and Moldova by e-mail,
subscribe to "RFE/RL Belarus, Ukraine, And Moldova Report."