On at least one issue, Ahmadinejad and Lukashenka see eye to eye -- their mutual antipathy toward the United States.
That philosophy has banded the two leaders into a defiant coterie that also includes the presidents of Venezuela and Cuba, Hugo Chavez and Fidel Castro.
Beyond that, however, it is not clear where Tehran and Minsk will find areas of mutual cooperation.
Belarusian political scientist Ihar Lyalkou tells RFE/RL's Belarus Service that Lukashenka may be looking to strike a production deal with energy-rich Iran.
"I think Belarus, which now needs money very badly, sees Iran primarily as a potential source of money," says Lyalkou.
But any plans by Belarus to drill oil in Iran, he adds, for the time being "look very exotic."
A Better Deal?
Lukashenka's autocratic and isolationist regime had long depended on subsidized Russian energy supplies to maintain a stable economy.
A dispute with Moscow earlier this year, however, has left Minsk facing dramatically higher gas prices.
But according to political analyst Alyaksandr Klaskouski, leaders like Ahmadinejad and Chavez are not likely to offer Minsk a better deal.
"There are some pragmatic expectations [in Minsk] for joint work, at least in the oil sphere. Belarus is looking for alternative energy supplies," Klaskouski says. "But there are big problems there. Despite all their declarations, both Iran and Venezuela view bilateral contacts in a very pragmatic way."
No breakthroughs should be expected during the visit, Klaskouski adds.
Beyond energy matters, talks between the two leaders may also focus on nuclear technology and weaponry.
Belarus is planning to build a nuclear-power plant, and may look for a technology exchange with Iran, whose Bushehr plant is nearing completion.
A deal may also be made on servicing Russian and Belarusian weapons purchased by Iran.

Politics In Belarus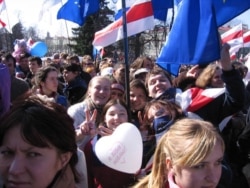 Demonstrators in Minsk on March 25 (RFE/RL)

WHAT HAPPENED? Belarus scholar Vitali Silitski and RFE/RL Belarus analyst Jan Maksymiuk took a look a how Belarus has changed since mass demonstrations in Minsk in March 2006 failed to produce meaningful change in that country.
LISTEN
Listen to the entire briefing (about 70 minutes):

Real Audio
Windows Media
RELATED ARTICLES
Has Regime Adopted New Tactics Toward Opposition?
Lukashenka Is Firmly In His Saddle, Despite A Bumpier Road
Why Can't Belarus's Opposition Just Get Along?
SUBSCRIBE
For weekly news and analysis on Belarus, Ukraine, and Moldova by e-mail,
subscribe to "RFE/RL Belarus, Ukraine, And Moldova Report."