Ahmadinejad Says Iran, Belarus To Stand Up To Pressure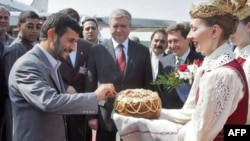 Ahmadinejad received a traditional welcome with bread and salf on his arrival May 21 (AFP) May 22, 2007 -- Iranian President Mahmud Ahmadinejad says neither his country nor Belarus will give in to international pressure.
Speaking on the last day of an official visit to Belarus, Ahmadinejad said "the future is for people who want to be independent" and countries that seek hegemony "have no future."
The United States and the European Union are pushing Iran to give up its nuclear program and urging Belarus to respect human rights and democratic norms.
After talks with Ahmadinejad May 21, Belarus President Alyaksandr Lukashenka announced that Belarus will develop an oil field in Iran.
(Interfax)