Ivanov Says No Cooperation With U.S. On Missile Defense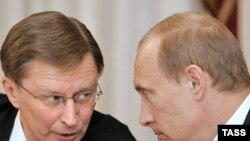 Ivanov (left) with President Vladimir Putin earlier this year (ITAR-TASS) May 23, 2007 -- Russian First Deputy Prime Minister Sergei Ivanov says Moscow will not cooperate with the United States on a missile-defense system in Europe.
Washington is proposing placing elements of the system in Poland and the Czech Republic to counter possible threats from Iran and North Korea.
Russia says that would threaten its security. The United States has offered Moscow the opportunity to cooperate on the system.
But Ivanov, speaking in Moscow, said Russia would not "cooperate" against itself.
(Reuters, ITAR-TASS)