RFE/RL: What are the chances that the [UN] Security Council will adopt the draft resolution on Kosovo's status based on Ahtisaari plan during the U.S. presidency of the Security Council, that is, during May?
"We support the plan that Ahtisaari has on the table, and the plan that Ahtisaari has on the table calls for a Kosovo within the administrative boundaries that we know now."
Rosemary DiCarlo: Let me just say that it our intention to try to have this resolution passed during our presidency. We are working toward that goal. We are very pleased that we have broad support within the council for [former] President Ahtisaari's plan. I think that members of the council appreciate very much the work that President Ahtisaari has done, his efforts to bridge the gap between the two parties. They also, I think, understand that he has come up with a very broad range of protections for Kosovo's Serbs, for minorities in Kosovo. I also think that the Security Council's visit to the region a few weeks ago was very important. It gave members an opportunity to see first hand the situation on the ground. And I think it became very clear to most of the members what President Ahtisaari has said, what UN envoy Kai Eide -- almost two years ago now -- said, which is that...the status quo is not sustainable.
RFE/RL: But Russia continues to oppose supervised independence for Kosovo as it is proposed in the Ahtisaari plan. What are the compromises that the United States and the international community are prepared to make with Russia to avoid Moscow's veto on this issue?
DiCarlo: We are discussing with representatives of the Russian Federation -- as we are discussing with other members of the Security Council -- President Ahtisaari's plan and how to move forward. We have differences of opinion with Russia -- that's very clear -- but we continue to discuss the issue and we hope, indeed, for all of us to be in agreement. Russia has been part of the Contact Group for a long time. We have worked very well with Russia in the Contact Group. Russia was engaged in many of the discussions that President Ahtisaari had with Belgrade and Pristina officials. And I think Russia shares our view in wanting a stable and secure Balkan region -- one that is on its way to the European Union.
RFE/RL: But Russia is insisting that the draft resolution is unacceptable and it is insisting on continuing talks between Pristina and Belgrade. Do you have any thoughts on this? Do you agree with the idea of continuing the talks?
DiCarlo: I think our view is that we have had extensive talks. We have had extensive talks in the last 15 months and longer. The parties have put their ideas on the table. I think that we have reached as many compromises as we can in that particular forum. We do not think that delay is going to bring the parties together, that continued talks on this issue will bring them closer together. Therefore, we think it is time now for the international community to act.
RFE/RL: The International Crisis Group published a report the other day. Among the recommendations was a moratorium on Kosovo's membership in the UN for two years. Is there any chance the international community will take this recommendation into account as a way to find a solution with Russia?
DiCarlo: Let me say that President Ahtisaari's plan calls for Kosovo to be eligible for membership in international organizations, that includes a range of organizations -- the World Bank, the United Nations, OSCE, etc. We are supportive of President Ahtisaari's plan. Each organization, obviously, decides on membership. It is an issue. For example, at the World Bank there are eligibility requirements. We are supportive of President Ahtisaari's plan in total.
RFE/RL: What are the scenarios if the UN Security Council is not able to adopt a resolution on Kosovo? Is unilateral U.S. recognition of Kosovo's supervised independence a possibility?
DiCarlo: I'm not going to speculate on what would happen if we do not have a Security Council resolution. What I am going to say again is that it is our goal to achieve a resolution that paves the way for Kosovo's supervised independence. We believe, as President Ahtisaari believes, that this is the only viable option. Unfortunately, we must view the situation of Kosovo within the context of the breakup of Yugoslavia, and the return of Kosovo to Serb rule is simply not an option at this point. We will continue to work very closely with everybody on the Security Council to move this issue forward. We think it is in not only Kosovo's interest, but very much in Serbia's interest to put this issue behind them. It certainly is in the interest of the entire Balkan region.
RFE/RL: How much time are you prepared to give to your Security Council efforts to reach an agreement? A month? Two?
I'm not going to speculate as to timing on this issue. Our goal is to achieve one as soon as we can. DiCarlo:
RFE/RL: But the situation on the ground could deteriorate...
DiCarlo: As I said, we will continue to negotiate with others on the council. Continue our discussions with Russia. Continue our discussions with the parties to resolve this issue. We think we have come a very long way and we have to now ensure that we achieve the kind of resolution that is needed so that we can begin to think about the future. The future for Kosovo, which would entail an international presence -- both civilian and military -- to help the Kosovars implement President Ahtisaari's plan. A future for Serbia -- and that's a very bright future in Europe. We need to help Serbia move on that path and resolving Kosovo's status will help and allow government officials in Serbia to focus on the future. And we would hope that future entails membership in NATO, eventual membership in NATO, and we are willing to work with Serbia on the necessary requirements for NATO membership. We think it is extremely important to put the past behind all of us and to move forward. This is something that is key, it is key at this point. I think that we are at a critical point in the region and we need to ensure that we continue the momentum on moving toward a brighter future for everyone.
RFE/RL: Some Serbian leaders have declared that if Kosovo becomes independent they will declare independence for the north of Kosovo with a right to join Serbia. Is the territorial integrity of Kosovo in danger?
DiCarlo: The Contact Group, back in November 2005, made very clear that there were several options that the international community would exclude as part of Kosovo's status. One of them was partition. No partition of Kosovo. We do not think that partition is a viable option or that partition would lead to a more stable Balkan region. And we continue to believe this.
RFE/RL: And if Serbs take such a unilateral step, is the international community ready to act?
DiCarlo: Again, I'm not going to speculate on what might happen if they did this. And we have not heard this from leaders in Belgrade, from government officials. There may have been calls in Serbia, but not with the new government for any kind of partition of Kosovo. We support the plan that Ahtisaari has on the table, and the plan that Ahtisaari has on the table calls for a Kosovo within the administrative boundaries that we know now -- that is, under UN administration.
RFE/RL: How do you see the role of countries neighboring Kosovo -- and I mean Macedonia and Albania -- in this whole process?
DiCarlo: Well, obviously it's important to have good neighborly relations. What happens in the region is extremely important, first and foremost for countries in the region. I know that all the countries that are neighbors of Kosovo, neighbors of Serbia, want to see this issue resolved, resolved soon, and in such a way that it increases security and stability, not decreases it, but obviously we know that this is a difficult issue for Kosovo's neighbors, for Serbia's neighbors. We have seen support among the neighbors for President Ahtisaari and his efforts.
RFE/RL: If you were to speak directly to people in Kosovo, what would you say to them?
DiCarlo: I would say to the people of Kosovo that it's very important that they remain committed to building a multiethnic society in Kosovo; that the international community wants to assist them in these efforts; that we understand their concerns, we understand the difficulties they have had; and we also understand and appreciate their desires for clarity about their future. We agree -- clarity is needed for Kosovo to be stable, clarity is needed for the people of Kosovo to plan their futures and, obviously, clarity is absolutely needed for prosperity and for the economy to improve.
Final Status For Kosovo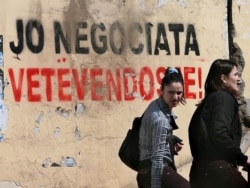 Pro-independence graffiti in Prishtina (epa)

FINALLY STATUS? Sabine Freizer, director of the Crisis Group's Europe Program, told an RFE/RL briefing that deep divisions in the UN Security Council make it uncertain what form Kosovo's future status might take.
LISTEN
Listen to the entire briefing (about 70 minutes):

Real Audio
Windows Media
ARCHIVE
RFE/RL's coverage of
Kosovo
. The website of
RFE/RL's South Slavic and Albanian Language Service
.