Serbia Warns Of Government Crisis If Kosovo Breaks Away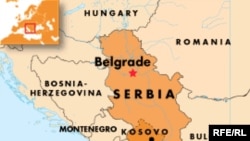 (RFE/RL) May 19, 2007 -- Serbian Foreign Minister Vuk Jeremic has said that the Serbian government will fall if Kosovo gains independence.
In an interview with the "Financial Times" daily, published May 20, Jeremic said that "whoever gives up Kosovo -- implicitly or explicitly -- will instantaneously and forever lose the capacity to govern this country with a democratic mandate."
The UN has proposed internationally supervised independence for Kosovo, a move backed by the United States and the European Union but opposed by Serbia and its traditional ally Russia.
Russian Foreign Minister Sergei Lavrov today reiterated Moscow's opposition to the UN plan, calling it "unacceptable," but he stopped short of threatening that Russia would exercise its veto power at the UN Security Council.
In the "Financial Times" interview, Jeremic insisted that although the Kosovo issue pits Serbia against Western powers, the new government in Belgrade will not slip back into the "traumatic isolation" of the 1990s.
(AFP, AP, Interfax)


SUBSCRIBE
For a regular review of politics, media, and RFE/RL broadcasts in the western Balkans,
subscribe to "RFE/RL Balkan Report."