The fact-finding mission was organized and sent on Russia's initiative. Russia had called for the Security Council's 15 members to seek a better understanding of the political, social, and economic situation on the ground as they consider a proposal by UN special envoy on Kosovo Martti Ahtisaari, who recommends that Kosovo be granted "supervised independence."
Russia's UN ambassador said it is unlikely a resolution on Kosovo's status will pass quickly.
Russia and Serbia are strongly opposed to independence for Kosovo. Belgrade said that it was ready to grant Kosovo the broadest possible autonomy while keeping the province within Serbia's borders. China, like Russia a permanent member of the Security Council, is also opposed to the independence proposal.
The United States and the majority of the European Union states support Ahtisaari's plan.
Return to normalcy
Speaking to reporters after Verbeke's UN briefing, Russia's UN ambassador, Vitaly Churkin, said he hopes that there will be a "real discussion," now that Security Council envoys have been to Kosovo and have seen the situation on the ground with their own eyes. Churkin said it unlikely a resolution on Kosovo's status will pass quickly.
"At least in my view, having been to Kosovo, it is very difficult to argue that the international community is anywhere near implementation of [Resolution] 1244 and its key provisions with regard to creating normalcy, normal life conditions in Kosovo, and with regard to the return of Serbs to Kosovo," Churkin said. "And we're nowhere near implementation of the standards which were also endorsed by the Security Council."
Security Council Resolution 1244 was adopted in June 1999, shortly after NATO-led air strikes in April of that year forced the Serbian government of then-President Slobodan Milosevic to withdraw its troops from Kosovo. The resolution set guidelines for returning normal living conditions to Kosovo.
Churkin said that he expects a detailed report by mission head Verbeke, a thorough discussion on that report at the Security Council, and then another thorough debate on the implementation of Resolution 1244.
Churkin also warned that the Kosovo issue must be handled cautiously. "Some suggest that what needs to be done now is for the Security Council to lift Resolution 1244 and replace it with something else, with something which will open the door for independence for Kosovo. In my view, the international community has to respect itself and first of all make sure that its decisions, in this particular case in the form of Resolution 1244, are being implemented," Churkin said.
Top priority
Zalmay Khalilzad, the U.S. ambassador to the UN, spoke briefly after Churkin, and said the decision on the final status of Kosovo is a priority matter that should not be delayed for long. "We believe that we should move as soon as possible in the aftermath of that report, to bring the situation to a successful conclusion with regard to Kosovo," Khalilzad said.
Khalilzad is the president of the Security Council for May, and he has made a priority of giving the debate on Kosovo's final status a prominent place in the council's work program.
In a related development, high-level diplomats from the Kosovo Contact Group of countries are to gather in Britain on May 3 to discuss the next steps on Ahtisaari's proposal. Officials from Britain, France, Germany, Italy, Russia, and the United States are to meet at the Foreign Office in London.
FURTHER READING
Russian Opposition Threatens Kosovo Plan

U.S. experts consider the UN final-status plan "inevitable," while Moscow argues it is "one-sided and unhelpful."

more

Russia's Star On The Rise

"Russian foreign policy today is such that for the first time in its history, Russia is beginning to protect its national interest by using its competitive advantages," Foriegn Minister Sergei Lavrov said.

more
Final Status For Kosovo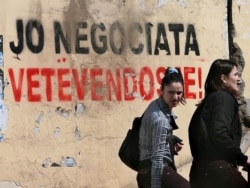 Pro-independence graffiti in Prishtina (epa)

FINALLY STATUS? Sabine Freizer, director of the Crisis Group's Europe Program, told an RFE/RL briefing that deep divisions in the UN Security Council make it uncertain what form Kosovo's future status might take.
LISTEN
Listen to the entire briefing (about 70 minutes):

Real Audio
Windows Media
ARCHIVE
RFE/RL's coverage of
Kosovo
. The website of
RFE/RL's South Slavic and Albanian Language Service
.