A rate reduction is viewed in some government circles as a desirable end in itself, given Islam's prohibition on usury and related practices; they also see it as a means of curbing inflation. But others argue that progress against inflation should precede any interest-rate cut.
Iranian inflation is currently estimated at between 13 and 24 percent, depending on the source. The state-capped lending rate for banks is 14 percent, although private banks can charge significantly higher (17 to 19 percent) borrowing rates for technical reasons.
The 14-percent rate is equivalent to Iran's base rate, and there is presumably a range of rates pertaining to various loans or interests on deposits. A legislator and member of the parliamentary Plan and Budget Committee, Hasan Seidabadi, spoke on April 22 of 30-percent interest rates on loans.
Financial Divide
Proponents and opponents of interest-rate cuts broadly disagree over how rates can impact inflation, which officials want to curb. Those who believe higher rates can help curb inflation -- and they have recently come to include members of the Money and Credit Council, a body affiliated with the Central Bank -- have opposed a cut this year. Backers of annual cuts have cited the need to rigidly abide by the stipulations of the development plan and a related law (the Law to Rationalize Bank Profit Rates), which call for a decrease in rates of roughly 2 percent a year. Under that model, interest rates are regarded as "bank profits."
Broadly speaking, proponents of interest-rate cuts are those with an enduring faith in state economic planning. Their opponents, on the other hand, are more inclined to look to market mechanisms. The government appears to lie somewhere in between. In principle, it supports rate cuts; but it appears reluctant to impose them in the face of inflation of above 13 percent.
Mohammad Khosh-Chehreh, a member of parliament's Economic Committee, on April 22 described the government as "stuck" in its implementation of annual interest-rate reductions, Fars News Agency reported. He said the Money and Credit Council's April 21 decision, not to recommend a rate cut from 14 percent in the Persian year to March 2008, revealed inflationary concerns within the government. The head of the parliamentary Economic Committee, Mohammad Shahi-Arablu, said less than a week later that the government is obliged to implement laws on rate cuts and that avoiding an interest-rate cut this year simply forces greater rate cut the following year, Aftab news agency reported.
The Cons...
Opponents of rate cuts have warned that reducing rates to below inflation could deprive banks of precious resources, as major investors seek higher returns elsewhere.
Gholamreza Mesbahi-Moqaddam, a member of the Money and Credit Council, told ISNA on April 22 that rates could not be cut when the inflation rate had evidently risen in the year to March 2007. A former parliamentarian, Ahmad Meidari, cautioned (on April 28) that cutting rates would lead institutional investors to keep fewer assets with banks and instead channel them into areas like the real-estate market ("Aftab-i Yazd" reported the next day). That, he said, could fuel a rise in the cost of housing. Meidari added that there were already signs that major companies, like insurers, had begun diverting resources into the real-estate sector.
...And Pros
Supporters of interest-rate cuts argue that the reduced cost of borrowing will reduce production costs, bringing consumer benefits.
Parliamentarian Mohammad Shahi-Arablu claimed to Mehr agency on April 22 that reducing rates "has had positive effects on investment and increasing non-oil exports in the past two years." He said lower rates had led to an increase in demand for loans and financing, which he said had prompted banks to prepare themselves to provide financing. On April 28, he dismissed banks' concerns at financial losses. He said banks had warned they would go bankrupt when the 2004-05 law on bank rates was ratified, but they were evidently still in business, while rates had dropped from 24 percent then to 14 percent. Iran's Labor Minister Muhammad Jahromi told Mehr agency on May 21 that production and employment would increase proportionately with falling rates.
The proponents of cuts seem at times to regard the cost of money as the only factor impeding Iranians from investing. They appear to ignore the possibility that factors like uncertainty, policy, distrust of state bodies, or a reluctance to become involved with red tape or complicated taxes might also play a role. Distrust is arguably a discernible factor in the economic choices of many who lived through Iran's 1979 revolution -- which led to the confiscation of many estates, homes, and businesses. Iranians appear to favor liquid assets -- cash deposits, informal loans to acquaintances, gold coins, dollar or euro notes, apartments -- more than their counterparts in more developed states. A key element that is arguably absent in Iran is a systematic trust in the financial and legal system that permits "abstract" investments with deferred returns.
Tehran-based economist and lecturer Mohammad Qoli Yusefi said in April that interest rates were not a decisive factor in Iran, because bank loans were only available to those with connections to the state economic or political apparatus, according to ILNA. Yusefi warned that Iran's banking system and money market had become "a political instrument." He said Iranians kept their savings in banks despite relatively high inflation because they had few alternatives and believed Tehran's stock market to be too volatile.
Slow To Decide?
The reformist daily "Etemad-i Melli" commented on May 21 that "prolonging economic decisions have slowly become a habit for the government." The paper said the perceived trend was causing "confusion among the public and many officials." It compared the issue to another thorny economic problem with which the government has been struggling: how much to charge drivers for gasoline. A new two-tier pricing system for gasoline that was due to start on May 22 has been postponed over apparent technical glitches and the government's failure to set those prices.
The latest news concerning the interest-rate debate suggests Iranian public discord that is not uncommon when it comes to state decisions. Finance Minister Davud Danesh-Jafari said on May 20 that there would be no cuts for the time being, ISNA reported. "Etemad-i Melli" quoted a deputy head of the central bank, Akbar Komeijani, as saying the same day that the issue would have to be examined for another six months. But two days later, government spokesman Gholamhussein Elham announced a presidential decision to cut interest rates for all banks to 12 percent this year, according to Fars.
President Mahmud Ahmadinejad's government can appear as indecisive when it comes to economics as it is bold and fiery in its statements regarding foreign policy.
At the moment, the potential costs of that indecision -- and indeed the boldness -- might appear affordable in large part due to the billions of petrodollars that are flowing into the Iranian treasury.
The Iranian Economy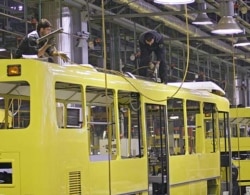 Buses being produced at a factory in Tehran (Fars)

IN NEED OF DIVERSIFICATION. Populist Iranian President Mahmud Ahmadinejad is having trouble fulfilling his promises to put the country's petrodollars on the plates of average citizens. Inflation and unemployment remain high and the economy is dominated by the energy sector.
RELATED ARTICLES
Foes Challenge President's Economic Rhetoric
Power Cuts In An Energy-Rich Land Spark Protests
Government Balks At Gasoline Rationing
Weak Economy Challenges Populist President
ARCHIVE
RFE/RL's
coverage of Iran
.
SUBSCRIBE
For weekly news and analysis on Iran by e-mail,
subscribe to "RFE/RL Iran Report."