British prosecutors' pledge to seek Lugovoi's extradition, however, was met with a firm rebuff from their Russian counterparts. In legal terms, where do British prosecutors go from here? RFE/RL Russian Service correspondent Mikhail Salenkov posed the question to Yury Kostanov, a veteran defense lawyer and former employee of the Russian Prosecutor-General's Office.
RFE/RL: The Russian Prosecutor-General's Office has declared that Russia will not hand over Lugovoi. What are British prosecutors' chances of bringing Lugovoi to face justice in Britain?
Yury Kostanov: I think that their chances of obtaining the suspect are highly hypothetical. If Lugovoi himself ever decides to go somewhere and no measures are taken against him here [in Russia], he can freely travel abroad. Then they can [detain him]. But this is pure speculation. In reality, Lugovoi cannot be legally extradited because under the [Russian] Constitution, we don't extradite our own citizens. If our citizens commit some kind of crime abroad, they can be called to account in Russia, judged by a Russian court, and convicted here. But they shouldn't be sent to Britain or any other country. This is the law. And this is a common principle. As a rule, no state hands over its own citizens to others.
RFE/RL: Does that mean that Lugovoi will be able to avoid punishment, that there won't be any investigation?
Kostanov: It depends whether the British forward their material to our investigators and prosecutors. If they do, the Russians can decide whether to open a criminal case here, prosecute Lugovoi here, and send his case to a court here. If they don't, then declarations made by British prosecutors at a press conference, in my opinion, are not sufficient to make decisions on this issue.
RFE/RL: Who would carry out the investigation?
Kostanov: We have our own Prosecutor-General's Office.
RFE/RL: Will the Prosecutor-General's Office conduct the investigation alone?
Kostanov: Let [British investigators] hand us their material, explain to us that, according to their information, such a person has committed such a crime. Then our prosecutors can open a case, investigate, and take subsequent steps.
RFE/RL: Could British specialists take part in this process?
Kostanov: It depends in what form. They cannot conduct the investigation, but they can share the information they've gathered. In the same way, our investigators can give them the information that they need. Contacts are possible, of different kinds and on different levels.
RFE/RL: Can the Russian Prosecutor-General's Office use to the case to make demands on British authorities -- for instance, secure an exchange of suspects? We give you Lugovoi, and you give us tycoon Boris Berezovsky?
Kostanov: This is already outside the framework of the law. Unfortunately, there's an attitude that still endures in Russia -- if it's impossible but you really want it, then it's possible. The law doesn't allow for this [exchange]. Berezovsky is a Russian citizen, and the fact that Britain is not handing him over to us is an issue of evidence, of sentencing. An exchange cannot take place just like that. If a British spy were caught in Russia, then we could exchange him against Berezovsky. But I don't see any legal basis on which we could extradite Lugovoi.

Facts About Polonium-210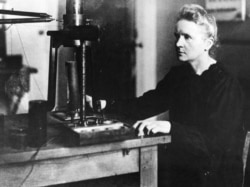 Marie Curie at work in 1925 (AFP)
Polonium, also called "radium F," was discovered by Marie Curie and her husband, Pierre Curie, in 1898 and was later named after Marie's homeland of Poland (Latin: Polonia).
It is an alpha emitter, meaning that although it is highly radioactive, it cannot penetrate human skin or a sheet of paper. Washing eliminates traces.
Contact with a carrier's sweat or urine could lead to exposure. But polonium-210 must be ingested or inhaled to cause damage.
Polonium-210 has a relatively short half-life of 138 days.
Polonium-210 occurs naturally in the environment (it is found in such things as dirt and tobacco) and in people at low concentrations. But acquiring a lethal amount would require individuals with expertise and connections.
Polonium-210 emits 5,000 times more alpha particles than radium, and an amount the size of the period at the end of this sentence would contain about 3,400 times the lethal dose. A dose like the one that killed former Russian spy Aleksandr Litvinenko would probably have been manufactured at a nuclear facility.
Russia exports 8 grams of polonium-210 monthly, all of it to the United States. Exports to Britain ended about five years ago.