Others include Ukrainian President Viktor Yushchenko, opposition politicians in Kazakhstan and Tajikistan, and the high-profile killing in Britain of former KGB officer Aleksandr Litvinenko.
Atambaev said after his reemergence recently he has no "concrete" suspicions about who may have poisoned him. But he insisted he was poisoned, and said there are "many aggrieved" parties in Bishkek who would want to kill him.
"They tried to poison me on May 11," Atambaev said. "They gave me water, and I drank the water in my office. I was unconscious for two days. I know that it was a case of poisoning. For two weeks, they have been cleaning my blood, and now, as you can see, I can walk and talk."
Growing List
Atambaev's allegations have not been confirmed. But he is just the latest on a list of prominent, politically active figures from former Soviet republics who have said they were poisoned.
Britain announced on May 22 that it will seek the extradition of ex-Russian agent Andrei Lugovoi for the murder of Litvinenko -- an outspoken critic of Russian President Vladimir Putin. The Kremlin has denied Litvinenko's deathbed claims that Putin ordered his poisoning. Lugovoi says Britain's accusations are politically motivated.
Nevertheless, that case has fueled speculation that the Kremlin may have been behind politically motivated poisonings in other former Soviet republics.
Some Russian newspapers have speculated that the death of Turkmenistan's President Saparmurat Niyazov in December may have been a murder. Those newspapers link Niyazov's death to his decision to review Turkmenistan's natural-gas contracts with Russia.
Turkmenistan's tightly controlled state media has neither published nor broadcast such unconfirmed allegations. But RFE/RL's Turkmen Service has confirmed that there are rumors among Turkmenistan's ruling elite that Niyazov was murdered.
Informed Opinion
Boris Volodarsky, a London-based former Soviet intelligence officer, insisted that Litvinenko was poisoned by former Russian security agents because of his criticism of Putin.
Volodarsky stressed that he has no information about the Niyazov case or Atambaev. He also warned that it is irresponsible to suggest Kremlin involvement in any specific poisoning case without solid evidence.
"You have to know all of the circumstances about what happened," Volodarsky told RFE/RL. "They can be his personal opponents. They can be members of his family. They can be anybody. They can be local police. Whatever. One has to know very well how and what happened -- what kind of poison was used, if any. Then one can make conclusions."
...And Speculation
Still, Volodarsky said speculation about the Kremlin is the understandable result of fears that stem from a long history of using poison against political enemies.
"Poison has been used in the geopolitics of the Kremlin as a weapon against the Kremlin's opponents since 1917," Volodarsky said. "I have [noted] at least 21 cases of Russian-Soviet poisonings abroad that happened during a period of 85 years. So we're talking about approximately one serious poisoning abroad, which has caused a huge international scandal, approximately every four years. These are the statistics. Russia and the Kremlin have been using poison. And they will continue to do that. And that's their important weapon in their struggle with the opposition and with their enemies."
Volodarsky said there are many possible explanations for the alleged poisoning of Kyrgyzstan's prime minister that do not implicate the Kremlin.
Atambaev was named as Kyrgyzstan's prime minister in March as a moderate opposition politician who could ease tensions between President Kurmanbek Bakiev and his opponents. Atambaev said his alleged poisoning will not stop him from trying to achieve that goal.
"Now, I will not resign because I don't like when someone tries to scare me," Atambaev said. "I probably have many enemies now."
Kyrgyzstan has been struggling to achieve political stability since President Askar Akaev was overthrown in a street revolt in 2005. Since then, the country has been plagued by political unrest, contract killings, and organized crime.
Three of 75 parliamentary deputies elected in 2005 have since been assassinated. Another member of parliament was shot a year ago after winning his murdered brother's seat in a by-election.
But all four also are reputed to have been directly involved in major illegal business ventures.
There also has been growing public concern about President Bakiev, who has come under fire from critics who accuse him of cronyism and collusion in criminal activities.
RFE/RL Exclusive Interviews
RFE/RL Exclusive Interviews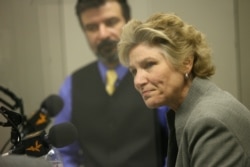 U.S. Undersecretary of State Karen Hughes being interviewed by RFE/RL in Prague on June 11 (RFE/RL)
AT THE MICROPHONE. RFE/RL frequently conducts in-depth interviews with leading newsmakers and analysts from throughout its broadcast region. Transcripts of many of these interviews have been gathered on a special archive page.
Recent Highlights:
Romanian President Traian Basescu | On EU aspirations
Georgian Integration Minister Giorgi Baramidze | On Georgia's relations with NATO, EU
U.S. Ambassador to the IAEA Gregory Schulte | On Iran's nuclear program
Kyrgyz Foreign Minister Alikbek Jekshenkulov | On relations with Uzbekistan
Former Ukrainian President Leonid Kuchma | On the return to power of Viktor Yanukovych