Kyrgyz Prime Minister Says Someone Tried To Poison Him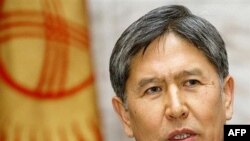 Almaz Atambaev (file photo) (AFP) BISHKEK, May 22, 2007 (RFE/RL) -- Kyrgyz parliament speaker Marat Sultanov said today the legislature will investigate an alleged attempt to poison Prime Minister Almazbek Atambaev if medical tests confirm the prime minister was poisoned, RFE/RL's Kyrgyz Service reported.
"They tried to poison me on May 11th," Atambaev told a press conference today. "They gave me water, and I drank the water in my office. I was unconscious for two days. I know that it was a case of poisoning. For two weeks, they have been cleaning my blood, and now, as you can see, I can walk and talk."
Atambaev has not accused anyone specifically of trying to poison him. However, he did mention that he recently received death threats after a government decision to nationalize a semiconductor plant in the southern Jalal-Abad Province.
(with material 24.kg, ITAR-TASS)