"Definitely, [constitutional reform] will continue," Atambaev told RFE/RL's Kyrgyz Service on April 21. "We have to finish the constitutional reforms to have stability in Kyrgyzstan."
Balanced Approach

Atambaev discussed the draft constitutional amendments that a working group he headed has submitted to President Kurmanbek Bakiev.

"Our version has a complete balance. It provides a balance [among the government's three branches of power]," Atambaev said. "Everything is there. It even includes decision making on personnel policy. The president and prime minister will advise one other. Parliament will also be involved. All the sides will have to come to a decision by consent. But those who are [criticizing the draft] don't like any other draft [except their own]. They want to adopt only their own version."
But Atambaev says he is ready to talk with opposition politicians who say they want to improve the draft.

"I always negotiate with [the opposition]," Atambaev said. "For instance, after the events of April 19 [in which a crowd in central Alatoo Square was dispersed overnight], I held a press conference after 1:00 a.m. Then, at 2:00 a.m., I met with [lawmakers] [Temir] Sariev and [Kubat] Baibolov -- all of the [opposition lawmakers]. We had a discussion until 3:30. Let it be put like that, 'We have our common state, for both 'opposition' and 'majority'. We need to stay together. However, it is not good to play a game, to be together, then suddenly leave and say, 'I know nothing.'"

The opposition had staged daily protests in Bishkek since April 11 to call for constitutional reforms, Bakiev's resignation, and early presidential elections. The demonstrations were suspended after the April 19 violence.

His critics have accused Bakiev of stalling long-promised reforms and failing to fulfill compromises that followed similar street protests in November.
Seeking Justice
Atambaev vowed to bring to justice opposition protesters who clashed with police in Bishkek on April 19.
More than 100 people were detained after youths threw stones and bottles at police guarding the government building. Riot police eventually pushed them back, firing teargas canisters and rubber bullets. Only one protester currently remains in custody.


"First of all, none of my former allies is in jail," Atambaev said. "They won't be in jail. They know how to escape it. However, individuals have to be brought to justice if their guilt is proven. Of course, their leaders will make sure to escape. I am sure about that. But this [punishment] is to be a lesson for the future. People have to learn that it is not right to throw [stones] at another person or a car. It is not legal to damage shops."
The presidential press service released a statement after the clashes, blaming opposition leaders.
Economic Gold Mine

In the interview, Atambaev also urged the Kyrgyz parliament to adopt several important laws in order to improve the current Kyrgyz economy. He says he is against severing relations with a Canadian company over the Kumtor Gold Mine in the Issykul region, but urged reconsideration of the agreement.

"Regarding the Kumtor [gold-mining dispute], if we would turn to nationalization [as a measure to deal with disputed investment issues], then we may kill the future of Kyrgyzstan," Atambaev said. "Then not a single country around us would deal with Kyrgyzstan. However, it is also wrong to leave it as it is. That is why I wrote a letter to the owners of Kumtor. I said, 'We abide by the laws, but it is also impossible to continue as it is. Let's negotiate the disputed problems.'"

The Kumtor gold mine -- developed by the Kyrgyz-Canadian joint venture Kumtor Gold -- has driven the national economy since the country acquired independence in 1991. It remains the mainstay, reportedly accounting for 10 percent of GDP. But Kumtor's capacity has been diminishing rapidly and gold reserves are expected to run out in a few years.

Atambaev said all of the disputes with foreign investors are part of the legacy of the former government of President Askar Akaev, who was ousted in March 2005.
Turmoil In Kyrgyzstan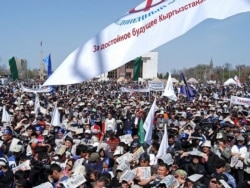 Opposition protests in Bishkek on April 11 (TASS)

TAKING TO THE STREETS. Edil Baisalov, president of the largest grassroots network in Kyrgyzstan, discussed the political turmoil in Kyrgyzstan at an RFE/RL briefing in Washington. He addressed the question of whether the unrest is a healthy democratic process or a bid to derail the country's fragile democratic transition.
LISTEN
Listen to the entire briefing (about 70 minutes):

Real Audio
Windows Media
RELATED ARTICLES
Protests Gain Steam Ahead Of Major Antigovernment Rally
Political Future Uncertain As Premier Steps Down
Revolution Anniversary Highlights Political Failures
Aksy Commemoration A Key Test For Bakiev
ARCHIVE
RFE/RL's coverage of
Kyrgyzstan
. The Kyrgyz-language website of
RFE/RL's Kyrgyz Service
.
SUBSCRIBE
For regular news and analysis on all five Central Asian countries by e-mail,
subscribe to "RFE/RL Central Asia Report."