Kyrgyzstan: Overnight Violence Halts Bishkek Rallies
Police and demonstrators clash in Bishkek late on April 19 (ITAR-TASS) April 20, 2007 (RFE/RL) -- Alatoo Square in downtown Bishkek was deserted and mostly cleaned up this morning, with little sign of nearly two weeks of daily opposition rallies.
But Kyrgyz authorities have opened a criminal investigation into violence that broke out at antigovernment demonstrations in the capital.
Riot police late on April 19 used tear gas to disperse the crowd.
The Interior Ministry says 34 protesters were arrested overnight, when rallies turned violent and demonstrators threw bottles and stones at police and even tried to storm the government building. Riot police eventually pushed them back, firing tear-gas canisters and rubber bullets.
The detainees were released early today, according to an opposition spokesman.
Government Closes Down The Rally
Security forces have removed dozens of protesters' tents from the square and announced that the owners can reclaim their yurts at the ministry building.
The Prosecutor-General's Office has also announced that a "criminal investigation has been opened into the mass demonstrations."
Speaking to journalists during a break in today's parliament session, Prosecutor-General Elmurad Satyboldiev said some people could face prison terms of up to seven years. The prosecutor was asked about the possibility of launching criminal cases against lawmakers who participated in the rallies.
"If we ascertain the facts and prove their guilt, I do have the right to ask the [parliament] to allow us to open a criminal probe against them," Satyboldiev said.
Moves Against The Opposition
Earlier today, security forces raided the offices of Ar-Namys, the party formed by former Prime Minister Feliks Kulov. Kulov heads the recently formed opposition umbrella group United Front For A Worthy Future For Kyrgyzstan and was a driving force behind the recent protests.
The print runs of two independent newspapers -- "Agym" and "Kyrgyz Ruhu" -- were seized today by security forces under orders from Satyboldiev.
Authorities accuse opposition leaders of failing to control their supporters. But some opposition supporters have accused authorities of being behind provocateurs that ignited last night's violence.
News agencies quoted one protester saying: "A large number of people suddenly appeared among the peaceful demonstrators and provoked the police."
Speaking to journalists today, opposition parliamentarian Omurbek Tekebaev warned that despite the suspension of the demonstration, authorities "should not deny the effectiveness of such demonstrations" or "citizens' right to peaceful protests."
Tekebaev also hinted at an effort to institutionalize some of the opposition alliances behind the recent rallies in the aisles of the parliament.
"The Front was a temporary arrangement," Tekebaev said. "I think we are going to work within the framework of the For Reforms movement. It is possible that we will create a parliamentary coalition called Reforms."
The launch of the daily Bishkek protests came on April 11, with thousands gathering to call for the resignation of President Kurmanbek Bakiev and constitutional reform.
His critics have accused Bakiev of stalling long-promised reforms and reneging on compromises that followed similar street protests in November.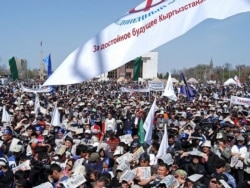 Opposition protests in Bishkek on April 11 (TASS)

TAKING TO THE STREETS. Edil Baisalov, president of the largest grassroots network in Kyrgyzstan, discussed the political turmoil in Kyrgyzstan at an RFE/RL briefing in Washington. He addressed the question of whether the unrest is a healthy democratic process or a bid to derail the country's fragile democratic transition.
LISTEN
Listen to the entire briefing (about 70 minutes):

Real Audio
Windows Media
RELATED ARTICLES
Protests Gain Steam Ahead Of Major Antigovernment Rally
Political Future Uncertain As Premier Steps Down
Revolution Anniversary Highlights Political Failures
Aksy Commemoration A Key Test For Bakiev
ARCHIVE
RFE/RL's coverage of
Kyrgyzstan
. The Kyrgyz-language website of
RFE/RL's Kyrgyz Service
.
SUBSCRIBE
For regular news and analysis on all five Central Asian countries by e-mail,
subscribe to "RFE/RL Central Asia Report."