Police fired tear gas at the protesters after stones were thrown at the building.
The crowd later joined thousands of opposition supporters who had gathered in the nearby Alatoo Square to demand early presidential elections and constitutional reforms.
Police later dispersed most the protesters from the square and chased remaining groups in surrounding streets.
The presidential press service released a statement blaming opposition leaders for today's disturbances, which it described as "hooliganism."
Opposition leaders urged both the opposition supporters and police to restrain from violence and called for an end of the rally.
Tursunbek Akun, head of the human rights commission under President Bakiev, said Prime Minister Almaz Atambaev warned Interior Minister Bolotbek Nogoibaev not to use force against the protesters.
Meanwhile, the Kyrgyz government has started an emergency session to discuss the crisis.
Turmoil In Kyrgyzstan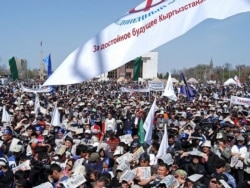 Opposition protests in Bishkek on April 11 (TASS)

TAKING TO THE STREETS. Edil Baisalov, president of the largest grassroots network in Kyrgyzstan, discussed the political turmoil in Kyrgyzstan at an RFE/RL briefing in Washington. He addressed the question of whether the unrest is a healthy democratic process or a bid to derail the country's fragile democratic transition.
LISTEN
Listen to the entire briefing (about 70 minutes):

Real Audio
Windows Media
RELATED ARTICLES
Protests Gain Steam Ahead Of Major Antigovernment Rally
Political Future Uncertain As Premier Steps Down
Revolution Anniversary Highlights Political Failures
Aksy Commemoration A Key Test For Bakiev
ARCHIVE
RFE/RL's coverage of
Kyrgyzstan
. The Kyrgyz-language website of
RFE/RL's Kyrgyz Service
.
SUBSCRIBE
For regular news and analysis on all five Central Asian countries by e-mail,
subscribe to "RFE/RL Central Asia Report."