Opposition activists have been protesting since April 11, calling for the resignation of the Kyrgyz president and implementation of constitutional reforms.
Early this morning, Kyrgyz security forces raided the office of the opposition Ar-Namys party and the United Front for a Worthy Future for Kyrgyzstan, both led by former Prime Minister Feliks Kulov.
Satybaldiev also ordered a criminal investigation against some opposition leaders, including Kulov, on charges of causing "mass disorder."
At least 34 demonstrators were detained last night after students threw stones and bottles at police guarding the government building. Six people were reportedly hospitalized.
Police reportedly fired tear gas at the protesters after stones were thrown at the building. The crowd later joined thousands of opposition supporters in nearby Alatoo Square to demand an early presidential election and constitutional reforms.
Opposition lawmaker Kubatbek Baibolov told the crowd to refrain from violence.
"There are provocateurs among you who call for attacking the White House [the Kyrgyz government building]," Baibolov said. "Our aim is different. Please stay calm here, stay calm. Our strength is patience. Keep the patience."
Police later dispersed most the protesters from the square and chased remaining groups in surrounding streets.
The presidential press service released a statement blaming opposition leaders for the disturbances, which it described as "holliganism."
Turmoil In Kyrgyzstan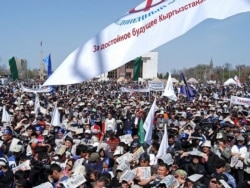 Opposition protests in Bishkek on April 11 (TASS)

TAKING TO THE STREETS. Edil Baisalov, president of the largest grassroots network in Kyrgyzstan, discussed the political turmoil in Kyrgyzstan at an RFE/RL briefing in Washington. He addressed the question of whether the unrest is a healthy democratic process or a bid to derail the country's fragile democratic transition.
LISTEN
Listen to the entire briefing (about 70 minutes):

Real Audio
Windows Media
RELATED ARTICLES
Protests Gain Steam Ahead Of Major Antigovernment Rally
Political Future Uncertain As Premier Steps Down
Revolution Anniversary Highlights Political Failures
Aksy Commemoration A Key Test For Bakiev
ARCHIVE
RFE/RL's coverage of
Kyrgyzstan
. The Kyrgyz-language website of
RFE/RL's Kyrgyz Service
.
SUBSCRIBE
For regular news and analysis on all five Central Asian countries by e-mail,
subscribe to "RFE/RL Central Asia Report."