Kyrgyz Lawmakers Want Naryn Officials Fired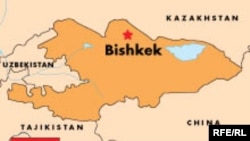 (RFE/RL) BISHKEK, April 19, 2007 (RFE/RL) -- Kyrgyzstan's parliament has adopted a resolution blaming authorities in the eastern Naryn Province for the "illegal" detention of opposition activist Bektemir Akunov, RFE/RL's Kyrgyz Service reported.
Akunov was found hanged in his cell on April 15, in what officials labeled suicide. Some opposition activists and local officials say police beat Akunov, who had just returned to Naryn after participating in an opposition protest in Bishkek.
Lawmakers today called for an impartial investigation into the death and urged President Kurmanbek Bakiev to dismiss the provincial governor, the local head of police, and the mayor of the city of Naryn.
Akunov was buried April 18. The same day, a crowd of some 400 people angered by Akunov's death tried to storm the provincial administration building.