Iraqi officials say the four-hour meeting was cordial and focused solely on Iraq.
Speaking at a news conference afterward, Cocker characterized the talks at Iraqi Prime Minister Nuri al-Maliki's office in Baghdad's protected Green Zone as "businesslike."
"I laid out before the Iranians a number of our direct, specific concerns about their behavior in Iraq, their support for militias that are fighting both the Iraqi security forces and coalition forces, the fact that a lot of the explosives and ammunition that are used by these groups are coming in from Iran, that such activities, led by the [Islamic Revolutionary Guards Corps] Quds Force needed to cease and that we would be looking for results," he said.
He said the Iranians "did not respond directly" to the U.S. charges, and that "the purpose of our effort in this meeting was not to build a legal case [against Iran]. Presumably, the Iranians know what they are doing. Our point was simply to say, 'We know as well.' This is dangerous for Iraq. It contravenes Iran's own stated policy. And it's dangerous for the region, because it can produce widespread instability."
Crocker added that the Iranians proposed a follow-up mechanism for further trilateral talks with the United States and Iraq. He said Washington will decide whether to accept that proposal.
In a brief statement to the envoys before their talks, al-Maliki said Iraqis want a stable country free of foreign forces and regional interference. He also said that U.S.-led forces were in Iraq only to help build up the army and police, and the country would not be used as a launching ground for a U.S. attack on a neighbor -- a clear reference to Iran.
The talks are the highest-level meeting since 1980, when the United States and Tehran severed diplomatic relations after Iranian revolutionaries seized the U.S. Embassy in Tehran, keeping its diplomatic staff hostage for 444 days.
Looking For A Way Out
The United States has long shunned direct contact with Iran, which it accuses of sponsoring terrorism and seeking to secretly develop nuclear weapons. But in the face of major problems in Iraq, Washington is searching for ways to stabilize the country, where Tehran has emerged as a major player since the 2003 U.S.-led invasion.
But whether Washington can achieve anything positive by talking to Iran is the subject of much debate -- inside and outside the U.S. government.
Ted Galen Carpenter, a U.S. foreign-policy analyst at the Cato Institute in Washington, believes it can help.
"The United states is in a difficult position right now in that the current U.S policy in Iraq simply has not worked at all; and I think we are beginning to cast about for some alternatives and Iran can be at least modestly hopeful in that regard as long as we recognize that Iranian influence in Iraq is going to be inevitably much, much stronger than it was before," he recently told RFE/RL's Radio Farda.
The talks were held at Iraqi Prime Minister Nuri al-Maliki's office in the fortified Green Zone compound in Baghdad. Al-Maliki made a brief statement before leaving the envoys on their own:
He said Iraqis want a stable country free of foreign forces and regional interference. He also said that U.S.-led forces were in Iraq only to help build up the army and police, and the country would not be used as a launching ground for a U.S. attack on a neighbor -- a clear reference to Iran.
Any Chance Of Change?
Despite the 27-year freeze in formal ties between Iran and the United States, mid-ranking officials from the two countries have met occasionally, most recently to discuss Afghanistan before and after the U.S.-led war to overthrow the Taliban.
Still, some believe Washington is wasting its time talking to Iran today. Richard Perle, a former Pentagon official who lobbied forcefully for a U.S. invasion of Iraq, is one of them.
"I don't believe [talking to Iran] would help because I don't believe there is any interest on the part of the mullahs in Tehran in changing the behavior of the government of Iran, which has been -- and I think will continue to be -- to encourage violence and disorder in Iraq," he told Radio Farda.
As the talks began today, Iranian Foreign Minister Manuchehr Mottaki said they could succeed if Washington adopts a "realistic approach" to problems in Iraq, which means -- according to Tehran -- admitting a "failed policy" in Iraq and the region.
Many Distractions
Hanging over the talks is a host of other complicating issues. There were U.S. Navy exercises in the Persian Gulf last week and tough talk from U.S. President George W. Bush about new UN sanctions against Tehran over its nuclear program.
Regarding the naval exercises, Defense Secretary Robert Gates said they weren't "intended as a show of force. [But] it is a show of force just because that is a lot of ships and clearly a lot of military power. But the intent is pure and simple, an exercise."
The naval exercises have likely further fueled the fears of Iran's Shi'ite theocracy that the Bush administration harbors plans for regime change in Tehran and could act on those desires as it did against Saddam Hussein in Iraq.
Further complicating the talks, Iran said on May 26 that it had uncovered spy rings organized by the United States and its Western allies.
Iran also accuses the United States of improperly seizing five Iranians in Iraq. Washington, meanwhile, has complained about the detention of several Iranian-Americans in Iran in recent weeks.
Nonetheless, the Baghdad talks are the first of their kind in more than a quarter-century. That, in itself, is a sign of something.
(Radio Farda correspondent Niusha Boghrati and RFE/RL's Iraq Service contributed to this article.)
Iraq And Iran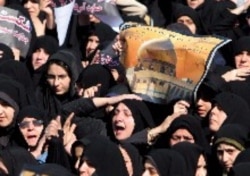 Iranian Shi'a protesting the Golden Mosque Bombing in Iraq on February 24


WHAT IS GOING ON? On March 8, RFE/RL's Washington office hosted a roundtable discussion on relations between Iraq and Iran. Although most analysts agree that Iran has been actively involved in Iraq since the U.S.-led military operation to oust former Iraqi President Saddam Hussein, they continue to debate the nature, extent, and intent of that involvement.
The RFE/RL briefing featured WAYNE WHITE, former deputy director of the U.S. State Department Bureau of Intelligence and Research's Office of Analysis for the Near East and South Asia, and A. WILLIAM SAMII, RFE/RL's regional analyst for Iran and editor of the "RFE/RL Iran Report."
LISTEN
Listen to the complete RFE/RL briefing (about 75 minutes):

Real Audio
Windows Media
RELATED ARTICLES
Iran/Iraq: Bilateral Ties Improving Despite U.S. Worries
Renewed Speculation About Tehran And Instability In Iraq
Iran/Iraq: Neighbors Mending Ties, But Outstanding Issues Remain
ARCHIVE
RFE/RL's
coverage of Iran
. RFE/RL's
coverage of Iraq
.