The refusal comes one day ahead of talks between EU foreign-policy chief Javier Solana and Larijani in the Spanish capital, Madrid.
Previous meetings have failed to persuade Tehran to obey UN resolutions demanding to halt enrichment.
The West accuses Iran of seeking to build atomic bombs. But Iran insists its program is aimed at generating electricity.
At the Madrid meeting, Solana is empowered by the world's major powers -- the United States, Russia, China, Britain, France, and Germany, as well as the EU -- to explore the scope for formal negotiations on a package of economic, technological, and political initiatives if Iran suspends enrichment.
The UN Security Council has imposed two sets of sanctions on Iran since December for its failure to heed U.N. demands. The United States, which has led efforts to isolate Iran, has threatened further steps.
Concerning Iraq, Iranian Foreign Minister Manuchehr Mottaki said today that Tehran would consider continuing talks about Iraq with the United States only if Washington shows it is ready to "solve problems in Iraq and correct" its policies there.
Mottaki's remarks come two days after the U.S. and Iranian ambassadors to Iraq met in Baghdad for talks on security in Iraq -- the highest-level official public contacts between Washington and Tehran in 27 years.
(AFP, ISNA)

(Reuters, AFP)
Talking Technical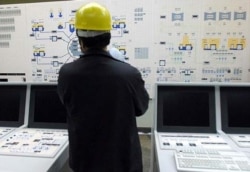 A control panel at the Bushehr nuclear power plant (Fars)

CASCADES AND CENTRIFUGES: Experts and pundits alike continue to debate the goals and status of Iran's nuclear program. It remains unclear whether the program is, as Tehran insists, a purely peaceful enegy project or, as the United States claims, part of an effort to acquire nuclear weapons.
On June 7, 2006, RFE/RL correspondent Charles Recknagel spoke with nuclear expert Shannon Kile of the Stockholm International Peace Research Institute in Sweden to help sort through some of the technical issues involved. "[Natanz] will be quite a large plant," Kile said. "There will be about 50,000 centrifuges and how much enriched uranium that can produce [is] hard to say because the efficiency of the centrifuges is not really known yet. But it would clearly be enough to be able to produce enough [highly-enriched uranium] for a nuclear weapon in fairly short order, if that's the route that they chose to go...." (more)
RELATED ARTICLES
Tehran Says It Is Working On Advanced Nuclear Fusion
Would Light-Water Reactor Suit Tehran's Needs?
Satellite Images Raise Questions About Iran's Nuclear Program
Centrifuges And Political Spin?
How Close Is Iran To Getting Nuclear Bomb?
Iran: The Worst-Case Scenarios

THE COMPLETE STORY: RFE/RL's complete coverage of controversy surrounding Iran's nuclear program.