Iran's Foreign Ministry spokesman Mohammad Ali Hosseini says Tehran will not suspend uranium enrichment, a process the West fears could be used to make nuclear weapons. Iran says the program is only for the peaceful production of nuclear power.
Hosseini's remarks come just hours before talks in Madrid today between Iran's chief nuclear negotiator Ali Larijani and EU foreign policy chief Javier Solana. The standoff already has resulted in UN sanctions against Iran.
Foreign ministers of the Group of Eight leading industrialized nations -- meeting in Germany on May 30 -- expressed "deep regret" that Iran had continued to expand enrichment activities. They suggested more sanctions could be imposed.

(Reuters, AFP)

The Proliferation Threat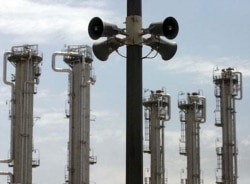 The Arak heavy-water plant in central Iran (Fars)


BENDING THE RULES. Henry Sokolski, executive director of the Nonproliferation Policy Education Center, told an RFE/RL-Radio Free Asia briefing on January 9 that the West is hamstrung in dealing with Iran and North Korea because of the way it has interpreted the international nonproliferation regime to benefit friendly countries like India and Japan.
LISTEN
Listen to the entire briefing (about 90 minutes):

Real Audio
Windows Media
RELATED ARTICLES
Iran, North Korea Present Proliferation Challenges
Tehran Watches As North Korea Tests Global Resolve
Rogue Nuclear Programs Threaten New Arms Race
Why Shouldn't Pyongyang Join Nuclear Club?