Thousands In Pakistan Rally In Support Of Dismissed Judge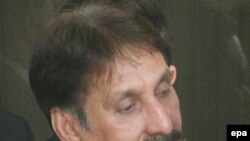 Suspended Chief Justice Iftikhar Chaudhry (file photo) (epa) June 2, 2007 -- In the Pakistani city of Abbotabad today, some 50,000 people defied a government ban and gathered at a rally to show their support for Justice Iftikhar Muhammad Chaudhry.
Many shouted slogans against President Pervez Musharraf.
The president's dismissal of Chaudhry from the Supreme Court in March has triggered a political crisis and led to strikes by lawyers and several large demonstrations.
(AP)