Thousands Rally In Support Of Pakistan's Ousted Judge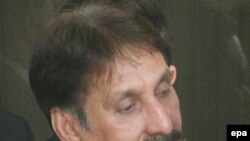 Iftikhar Mohammad Chaudhry on May 2 (epa) May 5, 2007 -- Thousands of people turned out to greet Pakistan's ousted top judge as he traveled by road from Islamabad to the eastern city of Lahore.
Opposition parties said police had detained hundreds of activists to prevent them from attending a rally in Lahore on May 5.
Iftikhar Mohammad Chaudhry is expected in Lahore to denounce what he says is an attempt by President Pervez Musharraf to sack him.
Chaudhry was suspended in March for alleged abuse of office.
Supporters say it is an attack on the judiciary.
(compiled from agency reports)