PRAGUE, August 31, 2006 (RFE/RL) -- Immediately following Bugti's death, violent protests erupted in the Baluchistan provincial capital Quetta and parts of Karachi. A curfew was imposed in many parts of the country and protests took place in other cities as the provincial border between Baluchistan and Sindh was sealed off. Funeral prayers for Bugti -- who was 79-years old -- were held throughout Pakistan.
Baluch nationalists and the Pakistan army have experienced sporadic clashes for many years. Observers note that Bugti -- a western-educated Baluch who belonged to a feudal family -- had been a prominent government official in Baluchistan in the 1970s and was not initially aligned with the provincial nationalist movement, though over the years his name became synonymous with Baluch nationalism. After a major Pakistani military operation in 2005, Bugti took refuge in the mountains from where he was conducting a rebel offensive against the Pakistani army.
"This was a targeted assassination, it was the first political assassination that the military has undertaken since the hanging of Zulfiqar Ali Bhutto."
Widespread Protests
The Muttahida Majlis e-Amal (MMA) is planning a countrywide protest on September 1 to mark Bugti's death and to continue to demonstrate against President Pervez Musharraf's government.
The MMA -- which is an amalgamation of religious political parties -- had little popularity in the past within Pakistan's political system but is presently enjoying increased attention due to increased anti-Musharraf and anti-American sentiment in the country. It also dominates the political scene in Baluchistan and Northwest Frontier provinces.
Maulana Fazlur Rehman, a prominent MMA leader in Baluchistan, says that political reforms were suggested to President Musharraf to better relations between Baluch nationalists and the government, but the government dismissed the recommendations and a military offensive was given priority. Rehman categorizes Bugti's death as an extraordinary turn of events in Pakistan's political history.
"All political parties are viewing this scenario very carefully and they are trying not to fuel the unrest and to resolve this tension peacefully so that Baluchistan and the rest of Pakistan are not negatively impacted by this incident," he said.
Rehman says that it is incidents such as Bugti's killing that led to a parliamentary vote of no-confidence in the government of Prime Minister Shaukat Aziz, which he survived on August 30.
The 'Sardari' System
Rehman says, however, that feudal lords such as Bugti have been averse to the development of their regions. Feudal families hold a lot of leverage in Pakistan. Apart from financial influence, their public following is enormous as a majority of those living under them are uneducated and are deeply embedded in traditional values and beliefs.
According to Rehman, the feudal lords -- or sardars -- have been in synch with the government in the past. He says that it is the army that has, in the past, elevated the feudal leaders to enjoy the positions that they have. He blames both the government and the feudal leaders as factors that are working against the development of Baluchistan.
"If you have to end the sardari (feudal lord) system, it has to be done by political resolve so that people can be rationally motivated and can gradually develop an awareness and an open mind to make informed decisions about their political leadership," he said. "But if you resort to force, by nature the tribals have always united against force and then what we see is -- like in this military operation -- a rather violent outburst from the locals."
Rehman says that Islamabad's claim that it is promoting economic development for Baluchistan falls on deaf ears because force is being used to convey Islamabad's policy instead of peaceful negotiations.
Chaudhry Yaqub, the inspector general of police for Baluchistan Province, told RFE/RL that Quetta police anticipated heavy violence after Bugti's funeral prayers on August 29, though there were only reports of some damaged property and public transportation. He says there were heavy deployments of police in the province and some arrests were made.
Bugti's Death -- A Connivance Of Sorts?
Ahmed Rashid, a Pakistani journalist and author of "Taliban," says there is growing frustration and anger about the continuation of military rule in Pakistan. According to him, various ethnic nationalities such as the Baluch, Sindhis, and the Pashtun need to be handled with political dialogue instead of force. He says the outcry after Bugti's death in Baluchistan and across the country was very serious. Rashid adds that the conditions in Baluchistan are remindful of what happened in 1971 when the country disintegrated and East Pakistan became Bangladesh.
"This was a targeted assassination, it was the first political assassination that the military has undertaken since the hanging of Zulfiqar Ali Bhutto," he said. "I think it is an extremely dangerous turn for this country because everyone is feeling very unsafe now."
The U.S. State Department issued a statement on Bugti's death and on the violence that followed in Quetta and parts of Karachi calling for a peaceful solution to the Baluchistan issue while maintaining a strong and unified Pakistan.
Rashid bemoans the role of international politics in the Baluchistan scenario; he refers to it as the connivance of Pakistan with Britain and the United States.
"Two months ago Tony Blair banned the Baluch Liberation Army for no reason whatsoever because the BLA is not a terrorist organization, it has not attacked British citizens, or kidnapped them or anything else," he said. "Also, at that point in time, just two days before Akbar Bugti was assassinated we had the very important statement by General John Abizaid, who was visiting Kabul; he said that Pakistan is giving no support to the Taliban and is completely innocent of all such accusations."
Rashid continued: "Now that smacks of a quid pro quo scene between the British, the Americans, and the Pakistani authorities in which the Pakistanis asked for Britain and America to turn a blind eye towards what they may do in Baluchistan towards the Baluch. While at the same time, the Pakistanis may have promised the Western powers that they would try to rein in the Taliban who are operating out of Quetta. Don't forget the weapons being used in Baluchistan, the helicopter gunships, the missiles, all these have been provided by America."
Bad Blood
The animosity between the Baluch and the Pakistani government is decades old. The most resource-rich province in Pakistan, Baluchistan remains the least developed. Many people in Baluchistan feel that their natural resources are being exploited to benefit Islamabad. However, Baluchistan is currently experiencing economic reform and has started to see some development.
Bugti's son, Jamil Bugti, calls his father's death a murder by an illegal government. He says the violence in Sindh and Baluchistan provinces is merely the public protesting the military. He does not believe that the nationalist movement will weaken after his father's death. Jamil Bugti adds that his father's Bugti's body has not yet been given to his family, although unconfirmed reports say it has been spotted under cave rubble.
"No civilized or semicivilized society in the world -- especially people who consider themselves to be the government or the so-called government -- would [ever] indulge in pure and simple murder," he said. "But when you are an illegal government you will keep on lying over and over again. In the last five days they have come up with five different lies as far as my father's body is concerned."
Pakistan's federal minister, Anisa Tahirkheli, says President Musharraf has been very proactive regarding Baluchistan's economic development. The military operation in Baluchistan did not target Bugti but aimed to end the defiance of rebels who do not want the province to develop. Tahirkheli reiterated Islamabad's stand and said that Bugti was a previously a chief minister and governor of Baluchistan, and his death was not a targeted assassination as critics claim.
Bugti's death -- whether it occurred during a random military operation, as Islamabad maintains, or was a targeted assassination, according to President Musharraf's critics -- may have far reaching implications.
This latest chapter in Baluchistan's history is a violent one -- marked by the death of one of its own nationalists. Some suggest that the heavy-handed approach by the Pakistani government against Baluch nationalists may only lead to greater resistance.
Afghanistan And Pakistan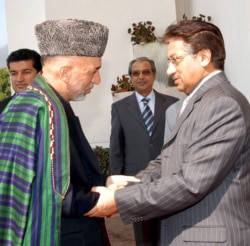 Afghan President Hamid Karzai (left) with Pakistani President Pervez Musharraf in Islamabad in October 2005 (epa)

ACROSS A DIFFICULT BORDER. The contested border between Pakistan and Afghanistan is some 2,500 kilometers long and runs through some of the most rugged, inhospitable territory on Earth. Controlling that border and preventing Taliban militants from using Pakistan as a staging ground for attacks in Afghanistan is an essential part of the U.S.-led international coalition's strategy for stabilizing Afghanistan. Officials in Kabul have been pointing their fingers at Pakistan for some time, accusing Islamabad or intelligence services of turning a blind eye to cross-border terrorism targeting the Afghan central government. Many observers remain convinced that much of the former Taliban regime's leadership -- along with leaders of Al-Qaeda -- are operating in the lawless Afghan-Pakistani border region.... (more)
RELATED ARTICLES
Pakistan-Afghanistan Conflicts Continue
Karzai, Musharraf Spar Ahead Of Bush Meeting
Musharraf Says Taliban Could Spark Pashtun 'National War'
Afghan Minister Attacks Pakistani Support For 'Terrorism'
Historical Context Of Afghan-Pakistani Relations
Afghanistan/Pakistan: 'Inseparable Twins' In Need Of Separation
ARCHIVE
RFE/RL
coverage of Afghanistan
. RFE/RL
coverage of Pakistan
.
SUBSCRIBE
For weekly news and analysis on Afghanistan by e-mail,
subscribe to "RFE/RL Afghanistan Report."