Tudor Petrov-Popa was convicted on terrorism charges. He was the last of four prisoners held by Transdniester since a 1992 armed conflict with Chisinau.
The prisoners were members of the Popular Moldovan Front, a political movement that called for the reunification of Moldova with neighboring Romania. Transdniester freed another member of the group, Andrei Ivantoc, on June 2.
Ilie Ilascu was released in 2001 and is now a member of parliament for a nationalist party in Romania. The fourth, Alexandru Lesco, was freed in 2004.
The European Court for Human Rights in July 2004 ordered the release of Ivantoc and Petrov-Popa and ordered Moldova and Russia to pay the four a total of over $1 million in compensation.
The court held Russia partly responsible for their detention because of its military and political support for Transdniester. Russia has since paid the compensation
(AP, Interfax, Basa)
The Transdniester Conflict
The Transdniester Conflict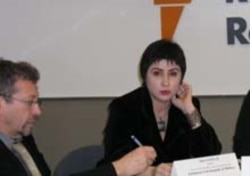 Stela Jantuan, head of the Information, Analysis, and Prognosis Service of the Moldovan parliament (RFE/RL)

FROZEN CONFLICT: On January 11, 2006, RFE/RL's Washington office hosted a panel discussion on prospects for settling the Transdniester conflict. The roundtable featured STEFAN GLIGOR and STELA JANTUAN of the Information, Analysis, and Prognosis Service of the Moldovan parliament and ALEXANDRU FLENCHA, head of the information and analysis division of Moldova's Ministry of Reintegration.
LISTEN
Listen to the complete panel discussion (about 90 minutes):

Real Audio
Windows Media
TALKS CONTINUE. The conflict between the Republic of Moldova and the unrecognized, separatist Transdniester Republic has festered for more than 15 years. A decade of talks supervised by the OSCE, Russia, and Ukraine have stagnated, while allegations mount concerning the involvement of Transdniester separatists in money-laundering and trafficking in arms, drugs, and human beings. What are the current prospects for settling this frozen conflict? (more)
ARCHIVE
An archive of RFE/RL's coverage of Transdniester.