Just one week before, Russian Foreign Minister Sergei Lavrov, addressing that same forum, criticized the United States for allegedly threatening Europe's security.
For her first-ever appearance at the OSCE headquarters in Vienna on May 31, Condoleezza Rice had clearly decided to not further rock the boat.
The U.S. secretary of state addressed the Permanent Council, the organization's main regular decision-making body that convenes once a week to discuss current developments in the OSCE area and make appropriate decisions.
As tensions between the United States and Russia continue to rise, OSCE diplomats and members of the press corps were expecting that Rice would address at least some of what U.S. Ambassador to the OSCE Julie Finley has called the "differences" and "misunderstandings" that exist between the two countries.
CFE Treaty
Instead, Rice delivered a five-minute speech that eluded most burning issues.
She, in particular, made no mention of Moscow's proposal to convene an what the Russian Foreign Ministry describes as "the serious problems that have arisen with the NATO nations' implementation of the Treaty as a result of its enlargement and NATO foot-dragging on ratification of the Agreement on the Adaptation of the CFE Treaty, signed in 1999."
Russian Foreign Minister Sergei Lavrov made the proposal on May 23 at a joint meeting of the OSCE Permanent Council and Forum Security Cooperation, the organization's main decision-making body on politico-military issues.
Earlier this week, Russia said it had approached the Netherlands -- which is the depositary of the 1990 CFE treaty -- with a request to call an extraordinary conference of its signatories on June 12-15 in Vienna.
What is Russia planning to propose at this is unclear. It has said that its outcome of would help it "decide on further steps."
Whether both Lavrov and Russian President Vladimir Putin coordinated this initiative with Rice when she visited Moscow on May 15 -- as some reports suggest -- is unclear.
Missile Shield
Article 21 of the CFE Treaty says its depository "shall convene an extraordinary conference of the States Parties, if requested to do so by any State Party which considers that exceptional circumstances relating to this Treaty have arisen." It also says the request "shall include the reason why that State Party deems an extraordinary conference to be necessary."
Tensions surrounding the CFE treaty stem from U.S. plans to build a missile-defense system that would involve the deployment of 10 interceptors and stationing of troops in NATO members Poland and the Czech Republic.
Washington's assurances that its proposed missile shield is meant to protect Europe from nuclear strikes from "rogue states" have failed to convince Russia, which in turn has warned that the U.S. plans threaten its security and may trigger a new arms race.
To add weight to those claims, Putin on May 31 explicitly linked the recent testing of new Russian tactical and strategic missiles to the U.S. plans, calling those weapons "a response to the unfounded actions taken unilaterally by our partners."
Rice did not make any reference to Russia's missile tests in her speech at the OSCE. Nor did she mention Russia's threats to freeze its commitments under the CFE treaty, or the standoff over the UN-administered Serbian province of Kosovo, whose independence bid the United States is backing amid Moscow's objections.
Dialogue, Not Confrontation
It looks like Washington is trying to avoid open confrontation with Moscow and seeking to reach a solution to the ongoing disputes through dialogue.
Bush and Putin are due to hold talks on the sidelines of next week's G8 summit in Germany. The two leaders will meet again in early July in Maine at Bush's request. Rice and U.S. Defense Secretary Robert Gates are tentatively scheduled to hold further talks with the Russians in the fall.
Acknowledging that the relationship between the two countries "is a complicated one," U.S. Ambassador to the OSCE Finley last week told visiting Lavrov that "we should avoid harsh rhetoric, which sometimes makes it sound as if the relationship itself is in question, rather than particular areas of disagreement."
Finley emphasized the "close working relationship" that Washington and Moscow have developed within the OSCE on Nagorno-Karabakh and said the United States was looking forward to reach a similar level of cooperation to help settle the other unresolved conflicts of South Ossetia and Transdniester and obtain the Russian withdrawal of its remaining troops from Georgia and Moldova. She also said the United States remained "committed to exploring missile-defense cooperation with the Russian Federation."
OSCE Role
If one should look for a response, albeit cryptic, to Russia's criticism in Rice's speech, it is perhaps in what she said about the OSCE itself.
She said the United States intended to continue playing "a leadership role" in "an organization that was born of the Cold War and has not only survived the Cold War and helped to overcome it, but has now a bright future."
Rice praised the work accomplished by the OSCE "in the support of elections, in the support of peacekeeping, in the support of human rights, and in support of the security architecture that is the basis on which a Europe whole, free and at peace is emerging."
Although she made no reference to Russia, her comments could be read as a response to Lavrov's recent comments.
The Russian foreign minister last week reiterated Moscow's traditional criticism of the Warsaw-based Office for Democratic Institutions and Human Rights (ODIHR), whose primary task is to monitor elections in the OSCE area.
ODIHR has criticized most ballots that have taken place in former Soviet republics since 1991 as failing to meet democratic standards.
To put an end to what they consider as an interference in their internal affairs, Russia and some of the least democratic post-Soviet states are seeking to put ODIHR under the control of the OSCE's Permanent Council and Ministerial Council. Since all decisions at the OSCE are made on a consensual basis, this would effectively give Russia or any other given country the right to veto ODIHR's election assessments and monitoring methodology.
Russia, Armenia, Belarus, Kazakhstan, Kyrgyzstan, Tajikistan, and Uzbekistan earlier this month proposed a "roadmap" for further reforming the OSCE, the content of which has not been made public.
Those seven CIS states have long been urging the OSCE to pay less attention to election monitoring, adherence to democratic standards, and observance of human rights in participating states, and refocus on its two other dimensions -- economic-environmental and, first and foremost, politico-military.
Rice's response was clear, although not explicitly formulated. "When I think of the OSCE, I think of its bedrock commitment to human rights and democracy," she said.
She also dismissed Russia's effective calls for the OSCE to return to its immediate post-Cold War-era roots of a primarily security-building institution dealing with arms control and confidence-building measures, saying the main objective set in the final act of the 1975 Conference on Security and Cooperation in Europe (CSCE) has been achieved.
"The OSCE was born as the CSCE in the depths of the Cold War, at a time when no one might have imagined that we would see the emergence of a Europe that is indeed whole, free, and at peace," Rice told the OSCE Permanent Council.
That could be an oblique way of telling Russia that the United States will resist any attempt at revising the CFE treaty.
Kazakhstan And The OSCE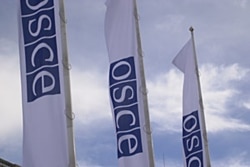 READY TO LEAD THE OSCE? Kazakhstan has been lobbying to be granted the rotating chair of the Organization for Security and Cooperation in Europe (OSCE) in 2009. In March, current OSCE head Karel De Gucht visited the country and said Kazakhstan is better prepared to head the OSCE than any other Central Asian country. But concerns about the state of democracy, the media, and ethnic relations make Kazakhstan's bid extremely controversial....(more)
RELATED ARTICLES
OSCE Says Kazakh Presidential Vote Flawed
OSCE Says Kazakh Obligations Not Met Ahead Of Vote
OSCE Offers Amendments To Kazakhstan's Draft Media Law
ARCHIVE
RFE/RL's
coverage of Kazakhstan
. The website of
RFE/RL's Kazakh Service
.