In a statement, Miklos Haraszti, the OSCE's representative on media freedom, expressed concern about the forcible eviction by the Ministry For Emergency Situations of the staff of the country's two main independent newspapers, "Realny Azerbaijan" and "Gundelik Azerbaycan," from their offices.
The statement said the newspapers had not been printed since the May 20 evacuations for alleged building-safety problems, and it is unclear when their publication will resume.
In Baku today, a senior aide to the Azerbaijani president today denied that the government is cracking down on media freedoms.
Ali Hasanov said the recent jailings of journalists and the closure of the newspapers' offices have been justified.
Hasanov called international criticism about attacks on the media "subjective." He said there is freedom of speech and an independent press in Azerbaijan, but he said freedom of speech does not mean journalists can break the law.
Terrorist Threat?
Meanwhile, prosecutors in Azerbaijan have filed new terrorism-related charges against the editor and founder of "Realny Azerbaijan" who was jailed last month.
Arif Babayev, a spokesman for the Ministry of National Security, said May 22 that Eynulla Fatullayev was charged with making a terrorist threat. He gave no further details of the charges.
In April, a Baku court found Fatullayev guilty of disseminating false information about a 1992 attack during the country's six-year war with Armenia over the territory of Nagorno-Karabakh.
(osce.org, AP)
Human Rights In Azerbaijan
Human Rights In Azerbaijan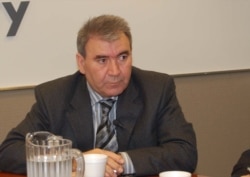 Azerbaijani parliamentarian and historian Jamil Hasanli speaking at RFE/RL on November 29 (RFE/RL)

THE CURSE OF OIL. On November 29, RFE/RL's Washington office hosted a briefing on democratic development in Azerbaijan. The briefing featured liberal opposition lawmaker Jamil Hasanli and former political prisoner and activist Murad Sadaddinov. The two men discussed the international commitments Azerbaijan has made in the area of human rights in order to secure investment in its energy sector and offer advice as to how the international community should deal with Baku.
LISTEN
Listen to the entire briefing (about 90 minutes):

Real Audio
Windows Media
RELATED ARTICLES
Authorities Intensify Pressure On Independent Media
Azerbaijan: Coping With The Oil Windfall
EU Taking Note Of Baku's Strength
Azeri Journalist's Prison Sentence Denounced As Political
ARCHIVE
RFE/RL's English-language coverage of
Azerbaijan
.
SUBSCRIBE
For a regular review of civil-society developments throughout RFE/RL's broadcast region,
subscribe to "RFE/RL (Un)Civil Societies."