RFE/RL: What are the distinctions between the 2006 and 2007 reports regarding the countries of the former Soviet Union?
Christopher Walker: The 2007 press freedom report for the 12 former Soviet republics showed a continuation of a worrying trend over the last several years. We've seen a continued erosion of press freedoms in the political, legal, and economic spheres in a number of countries. There've been a number of countries from the 2006 report that are doing worse today than they were doing then -- and these include Kazakhstan, Kyrgyzstan, Uzbekistan, Azerbaijan, Belarus, and Russia.
So we see a number of countries take a downward slide and, more importantly, this is a continuation of a trend that started several years ago. If one looks, for example, to the report we issued in 2004 -- nine of the 12 former Soviet republics have continued to do worse and are doing worse today than they were doing then. You must bear in mind that this is also a region whose press-freedom performance is extremely poor in global terms as a general matter. So, this decline really points to some serious, systemic issues in the media sector throughout the former Soviet Union.
RFE/RL: Which particular types of media are affected the most by the increasing freedom limitations?
Walker: In Central Asia, the key to the media is the television media and in every case you have either direct state control or effective state control through, for example, the media holdings of associates or family members of the presidents in these countries. This means in a very basic way, information of political consequence does not reach the vast majority of people in these countries.
We've seen an intensification of the efforts to control mass media. At the same time there've been indications in a number of countries that the regimes and the authorities are looking to assert even greater control over other media. So, there've been efforts to put greater pressure on newspapers, which tend to have smaller audiences but nevertheless have been important sources of independent information in a number of countries in the region. One possible explanation for this renewed attention to newspapers may be that the authorities are recognizing the ability of information from newsprint today to make its way onto the Internet and to be available to far larger audiences through the web.
RFE/RL: Azerbaijan, Kazakhstan, and Russia are all countries with booming economies and at the same time, press freedom there is deteriorating rapidly. Isn't there a contradiction here?
Walker: I think if you look at the cases of Russia, Kazakhstan, and perhaps even Azerbaijan, they have rather unique and interesting profiles in that these are all resource-rich states. Paradoxically, it's precisely in these sorts of systems and settings where a free press is essential for variety of reasons. One, of course, is to ensure that there's an ability to scrutinize the decisions of the authorities as regards the enormous energy wealth that they are responsible for using, to ensure that these are used for wise public purposes.
There's, of course, enormous corruption in these countries and press freedom is one of the critical ingredients for ensuring that corruption can be tackled. And I think, what we've seen is a very concerted and determined effort by the authorities to restrict press freedom.
RFE/RL: Are there any indications that the press freedom landscape in Turkmenistan may be changing after the death of the president Saparmurat Niyazov in December?
Walker: Turkmenistan is among the worst performers in the entire survey of all the world's countries we evaluate. The death of the president certainly opens the door for possible change, but given the country's track record and given the extremely repressed environment, it's very hard to judge to what degree there will be a meaningful opening there. Of course, increasing the flow of information and enabling more press freedom would be a very important and critical step for a country that is as impoverished and closed as Turkmenistan is.
RFE/RL: Russia and Venezuela are listed in the report as the two countries that have gone through the most appalling deterioration of press freedom in 2006. What is the basis for such a comparison?
Walker: We listed the countries in order to show two of the countries that underwent the most profound change. [These are] energy-rich states -- which seems to be a common denominator in many of the countries that show these sorts of steep declines in press freedom. And, of course, in Russia's case the decline has been exceptional over the course of the last seven years certainly. We've seen Russia drop very precipitously, and this is really a result of a comprehensive and systematic campaign of oppression to muzzle independent voices. It cuts across virtually all media in the country, certainly television, radio, and, to a large degree, more and more print media, which is a very worrying trend because there have been a number of highly valued newspapers that produced independent information, and that resource has been shrinking largely due to efforts of the authorities -- either through Kremlin friendly businesses that are taking over newspapers or other methods of intimidation or to assert control.
That [is] coupled with the degree of violence that is experienced by journalists there -- there have been an extraordinary number of deaths of journalists either through contract killings or otherwise suspicious circumstances -- and no action has been taken in any of these cases, certainly in the last seven years more than two dozen journalists have been murdered.
FURTHER READING
Dangerous Profession

The head of the Committee to Protect Journalists discusses the large number of journalists killed during 2006.

more

Post-Soviet Petrostates

Azerbaijan, Kazakhstan, and Russia prove that prosperity and human rights do not necessarily go hand in hand.

more
'Attacks On The Press -- 2006'
'Attacks On The Press -- 2006'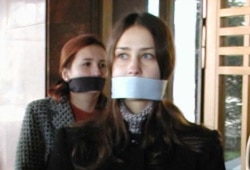 Ukrainian journalists demonstrating against censorship in December 2006 (RFE/RL)


'DOMINO EFFECT.' Two experts with the Committee to Protect Journalists told an RFE/RL-Radio Free Asia briefing on February 6 that their organization is concerned Russia's increasingly restrictive media environment is being copied by other countries in the CIS.
LISTEN
Listen to the entire briefing (about 80 minutes):

Real Audio
Windows Media
RELATED ARTICLES
New Program Finds Way Around Internet Censorship
CPJ Discusses Dangers, Obstacles Journalists Face
East: RSF Calls Iraq, Iran 'Graveyard Of Freedom'
Media Situation Worsening In Central Asia, Russia, Azerbaijan
SUBSCRIBE
For regular news and analysis on media issues throughout RFE/RL's broadcast area by e-mail,
subscribe to "RFE/RL Media Matters."