"By far the most dangerous [place] is Iraq, where 46 journalists were killed last year," Michael Kudlak, a press freedom adviser for the Vienna-based IPI, said. "Most of those were Iraqi journalists, who were targeted because they worked for Western on U.S.-supported media organizations."
Carried Out With Impunity
IPI's report notes that in almost all cases, the deaths were targeted killings.
The second most deadly country for journalists was the Philippines with 10 media staffers being killed. Seven journalists died in Mexico; five in Sri Lanka; four in Pakistan; three each in Afghanistan and Colombia; and two each in Venezuela, Russia, India, and China. The report says that most of the victims were from the local media and almost all the killings were carried out with impunity.
Kudlak says that in general, Europe is not dangerous for journalists, and Russia remain the only European nation where journalists were killed in the past year.
"On the whole I would say Europe is not very dangerous but of course Russia remains a problem," Kudlak said.
Russian investigative journalist and Kremlin critic Anna Politkovskaya was shot dead on October 7 in the entrance to her Moscow apartment building. Her death became the most known case of violence against Russian journalists in 2006.
Kudlak says that the situation has finally improved in the Balkans.
"They [the Balkans] seem to be off the list at the moment," he said. "Thank God. This [2006] has been the worst year since 1999 when 86 journalists were killed and most of those were killed in the Balkan."
IPI says that apart from the killings, many countries continued to silence or censor journalists. It singled out North Korea, Turkmenistan, Libya, Syria, and Saudi Arabia as being among the most repressive.
Reading Politkovskaya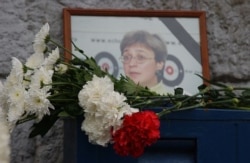 A memorial for Anna Politkovskaya in Moscow shortly after her murder (epa)


'A SMALL CORNER OF HELL': RFE/RL's Russian Service invited a number of prominent Russians to read passages from Anna Politkovskaya's second book on the war in the North Caucausus, "A Small Corner Of Hell: Dispatches From Chechnya" (see transcripts in Russian).The excerpts below are in Russian and are each about five minutes long.
LISTEN
Nikita Belykh, head of the Union of Rightist Forces:
Real Audio Windows Media
Sergei Buntman, political commentator with Ekho Moskvy:
Real Audio Windows Media
Andrei Babitsky, RFE/RL Russian Service correspondent:
Real Audio Windows Media
Vyacheslav Izmailov, "Novaya gazeta" journalist:
Real Audio Windows Media
Marianna Maksimovskaya, host of REN-TV's "Nedelya":
Real Audio Windows Media
Eduard Limonov, head of the National Bolshevik Party:
Real Audio Windows Media
Svetlana Sorokina, television journalist:
Real Audio Windows Media
CHRONOLOGY
The
fighting in Chechnya
has raged, with short breaks, since 1994. It has brought misery, death, and destruction to the North Caucasus republic and to Russia as a whole. View an
annotated timeline
of the conflict
.

ARCHIVE
RFE/RL's complete coverage of Russia's war-torn Republic of Chechnya.