In a statement issued April 24, Gedmin urged the Iranian authorities to immediately give back Azima's passport so she can return to her professional duties and to her son and grandchildren, who live outside of Iran.
Azima's Iranian passport was seized when she arrived in Tehran in January to visit her hospitalized mother.
Since then, Azima has tried unsuccessfully to reclaim the passport.
On April 23, one of Azima's lawyer Mohammad-Hossein Aghasi was told by a security official that her passport will not be returned any time soon.
The security official said Azima will "remain in Tehran for two or three years."
Azima is a broadcaster with Radio Farda, the Persian-language service run jointly by RFE/RL and Voice of America.
Women In Iran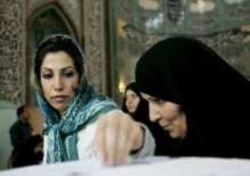 Women in Tehran (epa file photo)

CALLING FOR MORE RIGHTS: Although women played key roles in Iran's 1979 Islamic Revolution, the place of women in post-revolutionary society has been a vexing question. Iranian women have struggled to bring attention to their calls for greater rights in their country's rigid theocratic system, calls that have often clashed with the values proclaimed by conservatives in society. (more)
RELATED ARTICLES
Tehran Police Renew Campaign To Combat 'Un-Islamic' Dress
Iranian Peace Prize Laureate Shirin Ebadi On Women's Rights
Activists Concerned About Self-Immolation Of Iranian-Kurdish Women
The Younger Generation's 'Tehran Blues'
ARCHIVE
RFE/RL's coverage of Iran. RFE/RL's coverage of issues concerning women throughout our broadcast area.

SUBSCRIBE
For a regular review of civil-society developments throughout RFE/RL's broadcast region, subscribe to "RFE/RL (Un)Civil Societies."