Iran Journalists Call For Colleague's Release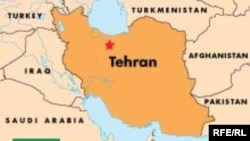 (RFE/RL) April 23, 2007 (RFE/RL) -- More than 250 Iranian journalists have called in an open letter to Iran's top judiciary official for the release of jailed colleague Ali Farahbakhsh, Radio Farda reported.
Farahbakhsh was sentenced in March to three years in prison on espionage charges.
His fellow journalists say the judiciary has not provided evidence to support the conviction.
Farahbakhsh was arrested in November after returning from an economics conference in Thailand.
Media groups worry that Farahbakhsh was jailed solely for exercising his right to free expression.
Several Iranian journalists and rights activists have been detained in recent months in connection with appearances at international conferences.