Record Number Of Journalists Killed In 2005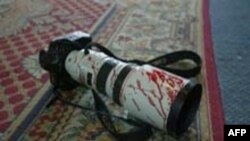 (AFP) 22 January 2006 -- A Brussels-based media group says a plane crash in Iran and relentless targeting of the press in Iraq pushed the total number of media professionals killed around the world to a record 150 in 2005.
The International Federation of Journalists says in its annual report that 2005 saw a trend toward targeted assassinations, with 89 journalists killed in the line of duty. Some 35 journalists were killed in Iraq alone.
The rest died in accidents or natural disasters, including 48 Iranians killed in a plane crash in Tehran in December.
These figures differ from those of other media organizations because they include support staff such as drivers and translators as well as journalists. They also include accidental deaths.
The New York-based Committee to Protect Journalists listed 47 journalists as killed in its 2005 report, while the Paris-based Reporters Without Borders said 63 were killed last year.
(AP)