63 Journalists Killed Worldwide In 2005, New Report Says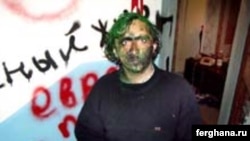 Aleksei Volosevich, an Uzbek journalist beaten up in 2005 (file photo) (fergana.ru) 4 January 2006 -- A Paris-based media rights group says 63 journalists were killed around the world last year, the highest number in a decade.
In a survey issued on 4 January, Reporters Without Borders said Iraq was once again the most dangerous place for journalists, accounting for more than one-third of the deaths (24).
The Philippines was the second most dangerous country, with seven deaths. The group said six journalists from former Soviet countries were killed, in Russia, Azerbaijan, Belarus, and Kazakhstan.
The group's overall figure is higher than the 47 deaths reported on 3 January by another media rights body, the U.S.-based Committee to Protect Journalists.
(rsf.org)