Twenty-six of the deaths occurred in Iraq.
WAN Director Timothy Balding said today that more than 500 journalists have been killed in the past decade, often for simply doing their jobs, yet few of the killers are ever brought to justice.
After Iraq comes the Philippines (eight deaths), and the South American nation Guyana (six deaths).
Press Under Assault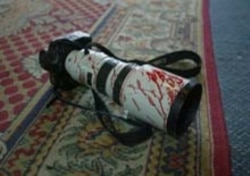 (AFP)
BREAKING THE NEWS: Press freedom is under assault in virtually all of the countries of the former Soviet Union. Independent media confront enormous challenges in providing citizens with the independent information that can help advance democratic reforms. On May 2, RFE/RL's Washington office hosted a roundtable briefing that gave an overview of media developments in the CIS and discussed the connections between press freedom and future democratization. The briefing featured Freedom House Director of Studies CHRISTOPHER WALKER, American University Associate Research Professor ROBERT ORTTUNG, and RFE/RL Central Asia analyst DANIEL KIMMAGE.
LISTEN
Listen to the entire briefing (about 90 minutes):
Real Audio Windows Media
RFE/RL's Press Freedom Day stories:
Iraq: Covering The Most Dangerous Beat On Earth
Afghanistan: Women In Journalism Battle Restrictions, Threats
Iran: State Maintains Tight Control Over Information
CIS: Press Freedom In Former Soviet Union Under Assault
Central Asia: Bureaucratic Obstacles Hinder Journalists
Central Asia: Governments Wary Of Independent Media
Central Asia: Journalists Still Face Harassment, Threats

THE COMPLETE STORY: To view an archive of RFE/RL's coverage of media-related stories, click here.
SUBSCRIBE
For regular news and analysis on media issues throughout RFE/RL's broadcast area by e-mail,
subscribe to "RFE/RL Media Matters."